1/8 NOTORIOUS 6S V5 4WD BLX Stunt Truck with Spektrum Firma RTR, Black
|
Checkout out our products at a store near you.
Unter der 1950er "Real Steel" Karosserie des NOTORIOUS™ 6S BLX 4WD steckt robustestes ARRMA® Design, ideal für Wheelie- und Backflip-Stunts, die mit dem Spektrum™ SLT3™ Sender, Dual Protokoll Empfänger, Smart Regler und mehr noch einfacher werden.
Aktualisiert mit Spektrum ™ -Komponenten und Smart-kompatibel
97+km/h bei Einsatz eines 6S LiPos und Verwendung des beiliegenden optionalen Ritzels unter optimalen Bedingungen erreichbar
EXB kompatible Strebe vorne
Größere wasserdichte Empfänger Box
Betriebsbereit - Installieren Sie einfach einen aufgeladenen 4-Zellen- oder 6-Zellen-LiPo-Akku Ihrer Wahl
ARRMA® NOTORIOUS™ 6S BLX 1/8 Stunt Truck 4WD RTR
Spektrum™ Firma™ 150A Smart 4S/6S Regler (installiert)
Spektrum ™ Firma ™ 4074 2050Kv Brushless Motor (installiert)
Spektrum ™ S652 Metallgetriebe Digital Servo (installiert)
Spektrum ™ SR315 3-Channel Dual Protokoll Empfänger (installiert)
Spektrum ™ SLT3™ 2.4GHz 3-Kanal Sender
Bedienungsanleitung
4S oder 6S LiPo Akku
LiPo Ladegerät
LiPo Ladebeutel
(4) AA Batterien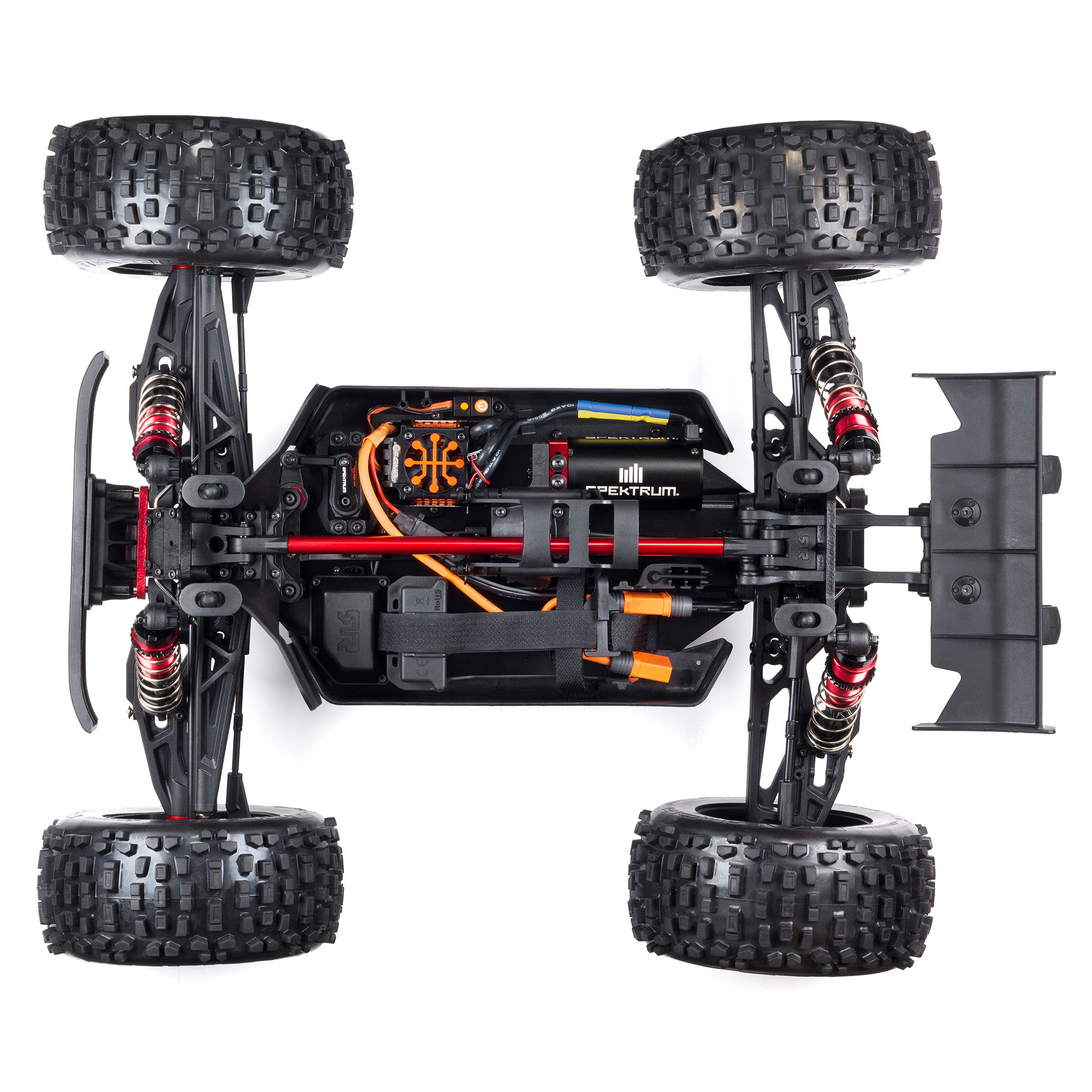 Einführung
Der NOTORIOUS™ 6S BLX Stunt Truck 4WD im Maßstab 1:8 entfesselt eine bisher noch nicht dagewesene Action mit Backflips und Wheelies in seinem einzigartigen Stil. Die 1950er Karosserie bietet dabei mehr als nur gutes Aussehen mit ihrem matt-blauen oder matt-schwarzen Finish. Der exklusive ARRMA® "Real Steel" Effekt ist ein echter Blickfang und wird mit hartem Bashing nur noch besser. Je mehr Kratzer Dein Stunt Truck bekommt, desto realistischer und spektakulärer sieht er aus.
Funktionen
Ready-To-Run
Spektrum™ SLT3™ 2.4GHz 3-Kanal Sender
Spektrum™ SR315 Dual Protockoll 3-Kanal Empfänger
Spektrum™ S652 Digital Servo
Spektrum™ Firma™ 150A Smart Regler
Spektrum™ Firma™ 4074 2050Kv Brushless Motor
Stärkeres Chassis Design
EXB kompatible Strebe vorne
Heavy-Duty Querlenker vorne und hinten
Stoßdämpferbrücke hinten
Größere wasserdichte Empfänger Box
Eloxierte Aluminium Chassis
Starke Seitenteile aus Kunststoff
Zentrale Karosseriestütze für noch mehr Robustheit
Interner Überrollbügel
Spoiler mit hohem Anpressdruck
Wheelie Bar
Einstellbare Öldruckstoßdämpfer
Schwarz Eloxierte Stoßdämpferbrücken vorne und hinten
Langlebige Antriebswellen aus Stahl
Heavy-Duty Antriebsstrang
Differentialausgänge und Getriebe aus Metall
Spielfreier rot eloxierter Servo Saver aus Aluminium
Gesicherte Kugelköpfe
Ausbau des zentralen Differentials mit nur wenigen Schrauben
Motorträgerschlitten für schnellen Zugang zum Motor
Radnabenmuttern mit O-Ringen
Super-Langlebige Radnaben für zusätzliche Stärke
Robuste Stunt Truck Felgen
Multi-terrain dBoots® BACKFLIP™ Reifen
Karosserie mit "Real Steel" Effekt für noch mehr Realismus
IC5® Stecker (EC5™ kompatibel)
*Details zu Dichtigkeitsstandards findest Du in der Bedienungsanleitung des Produkts.
Übersicht
Von seinem heavy-duty Bumper vorne über das Chassis mit kurzem Radstand bis hin zum Wheelie Bar im Heck ist der NOTORIOUS™ 6S BLX 4WD dazu gebaut worden, Dich wie einen Stunt Superstar aussehen zu lassen. Der steife Überrollkäfig und Unterbau widerstehen allem, was Du ihnen entgegenwirfst und können davon nicht genug bekommen. Egal ob lange, steile Wheelies… enge, schnelle Donuts… stehende oder fliegende Backflips… haushohe Sprünge… der NOTORIOUS™ 6S BLX 4WD kann alles… und noch mehr.
Um solche Stunts möglich zu machen, haben die ARRMA ® Ingenieure dem NOTORIOUS™ 6S BLX 4WD ein brushless Antriebssystem mit Spektrum™ Firma™ 150A Smart Regler und Firma™ 2050Kv Brushless Motor verpasst. Entfessle mit dieser Kombination unglaubliches Drehmoment, Beschleunigung und Speed und die Heavy-Duty Chassis- und Getriebekomponenten aus Aluminium und Stahl setzen alles in pure Action um. Für eine verbesserte Lenkung verbaut ARRMA® jetzt ein neues Stahlgetriebe Spektrum™ S652 Digital Servo – das 32% stärker und 5% schneller als das ADS-15M Servo der Vorgängerversion ist. Dank der wasserdichten Elektronik ist Bashen auch in nassen Bedingungen wie Schnee und Matsch angesagt. Alles was Du brauchst, ist ein 4S oder 6S LiPo Deiner Wahl.
Der ready-to-run Stunt Truck wird jetzt mit einen 3-Kanal-Spektrum™ SLT3™ Sender und Spektrum™ SR315 Dual-Protokoll-Empfänger ausgeliefert. Das ergonomische Design des Senders ist perfekt für viele Stunden ermüdungsfreies Bashing und verfügt über ein Schaumlenkrad für präzise Steuerung aus den Fingerspitzen sowie einem verbesserten Handgriff- und Trigger. Neue Fahrer können das Gas auf 50 oder 75% beschränken bis sie sich dazu bereit fühlen, das volle Potenzial des Buggys auszuschöpfen. Der SLT3™ Sender ist mit Tactic® SLT™-Empfängern kompatibel, und so kannst du damit auch andere RTR-Fahrzeuge steuern, welche Du vielleicht schon besitzt. Weiters verfügt er über einen dritten Kanal, mit dem Du Zusatzfunktionen wie Lichter oder Seilwinden auf Deinen Modellen steuern kannst.
Da der SR315-Empfänger SLT™- und DSMR®-Protokolle verwenden kann, kannst Du später problemlos auf einen Spektrum™ DSMR®-Sender upgraden – lade Dir dann die kostenlose Spektrum™ Dashboard™-App für Dein Handy herunter und schöpfe die, in der Firma™ Elektronik bereits vorhandenen, Smart-Telemetrie Funktionen voll aus. Damit siehst Du in Echtzeit Daten zur Regler Temperatur, Empfänger Spannung (BEC), Spannung des Antriebs-Akkus und Motordrehzahl.
Die einstellbaren 16mm Öldruckstoßdämpfer und Stoßdämpferbrücken aus Aluminium saugen Schläge und Unebenheiten förmlich auf, während Du mit Deinem NOTORIOUS™ 6S BLX 4WD Stunt Truck über Dreck, Teer oder Gras bretterst. Den robusten Stunt Truck Felgen wurden bereits die multi Terrain dBoots® BACKFLIP™ Reifen aufgezogen, die Dir die notwendige Traktion für Flips, Wheelies und Spins geben. Der leistungsstarke Spoiler mit hohem Anpressdruck hält den Truck dabei am Boden. Alles am NOTORIOUS™ 6S BLX 4WD trägt dazu bei, dass Du auch bei atemberaubenden Geschwindigkeiten immer die Kontrolle behältst.
Um der immensen Kraft des brushless Antriebs und den harten Stunts Stand zu halten, setzt ARRMA® auf eine verstärkte und eloxierte Aluminium Chassis als Basis. Eine zentrale Karosseriestütze, Aluminium-Stütze in der Mitte und Seitenteile aus Kunststoff geben dabei zusätzliche Stärke und Robustheit. Differentialausgänge und Getriebe aus Metall und langlebige Antriebswellen aus Stahl tragen dazu bei, dass der heavy-duty Antriebsstrang auch dem härtesten Bashing und extremsten Stunts standhält. Der spielfreie Servo Saver aus Aluminium und die gesicherten Kugelköpfe geben Dir mehr Präzision und Zuverlässigkeit und damit höheres Vertrauen in die Lenkung.
ARRMA® verkürzt die Wartungszeiten durch das effiziente und fahrerfreundliche Konzept des NOTORIOUS™ 6S BLX 4WD auf ein Minimum. Ein Motorträgerschlitten ermöglicht schnellen und einfachen Zugang zum Motor. Das zentrale Differential ist gut zugänglich und kann durch das Lösen von nur fünf Schrauben ausgebaut werden.
Videoübersicht
4S Completion Guide
These are our suggested products to complete this product.
6S Completion Guide
These are our suggested products to complete this product.
Produkt Eigenschaften
Product Height
9.06" (230 mm)
Rear Track
18.15" (461mm)
Motor Size
FIRMA™ 4074 2050Kv Brushless Motor
Product Length
21.26" (540 mm)
Front Track
18.15" (461mm)
Product Width
18.15" (461 mm)
Technology
Smart,Dual Protocol RX (DSMR/SLT)
Chassis
0.12" (3mm) 6061-T6 aluminum
Completion Level
Ready-To-Run
Drive Type
Forward/Brake/Reverse
Front Shock Spring Rate
5.0lbs/in (0.87n/mm)
Approximate Assembly Time
No assembly required
Body
Painted, trimmed and decaled
Product Weight
11.37lbs (5.17kg)
Tire Tread
dBoots BACKFLIP
Differential
Front center and rear geared differentials
Rear Shock Spring Rate
6.2lbs/in (1.09n/mm)
Shock Type
Aluminum body oil-filled adjustable
Wheel Type
MT, 3.8" (97mm) diameter