1/8 TALION 6S BLX 4WD Brushless Sport Performance Truggy with Spektrum RTR, Red/Black
1/8 TALION 6S BLX 4WD EXtreme Bash Speed Truggy RTR, Black
ARA8707
Voir les détails du produit alternatif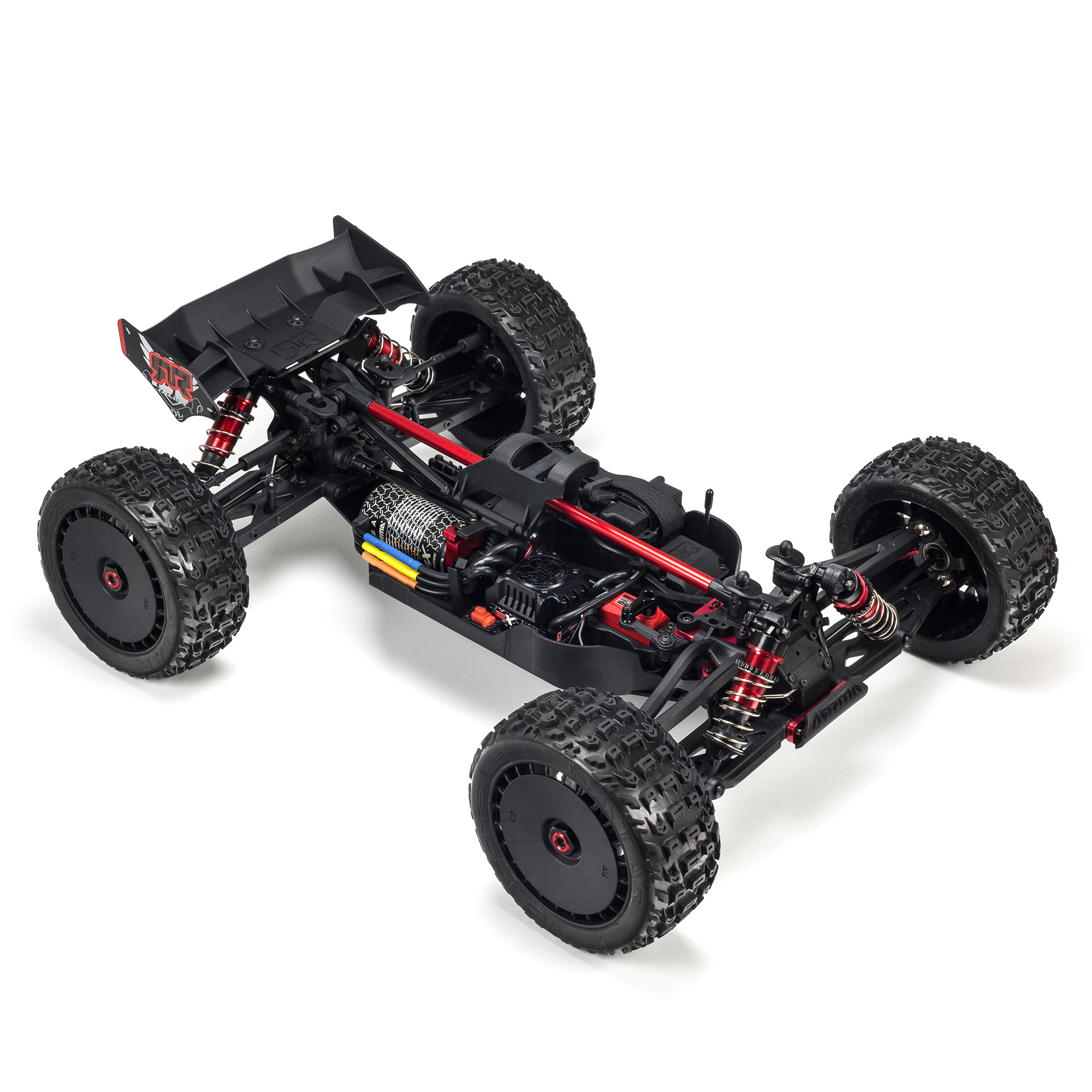 l'introduction
Pensé pour le bashing, conçu pour ''secouer'' —ARRMA® TALION™ 6S BLX 4WD speed Truggy 1/8 atteint plus de 100 km/h. Complété par la nouvelle radio Spektrum™ STX2® de 2,4 GHz, il est ultra robuste et prêt à s'exprimer sur n'importe quel terrain!
Caractéristiques principales
Prêt à rouler
Extrêmement résistant
Rapide, plus de 100 km/h possibles
Châssis aluminium anodisé
Corps à support central
Entretoise centrale aluminium
Solide chassis composite avec renforts latéraux
Transmission robuste
Conduite de véhicules lourds
entraînements de différentiels entièrement métalliques et internes
Arbres en acier durables
Montage moteur coulissant facile d'accès
Dépose du différentiel central par dévissage de seulement 5 boulons
Sauve-servo en aluminium rouge ''indésserrable''
Capuchons et protections d'amortisseurs en aluminium
Carrosserie peinte et décorée, autocollants posés
Roues Multi-terrain DBoots® KATAR
Aileron à haute résistance multi-éléments
Écrous de moyeux à joints toriques
moyeux de roue ultra résistants
Radio Spektrum™ 2,4 GHz STX2® avec récepteur SRX200
Volant ergonomique pour un contrôle précis dans toutes les conditions
Cadrans facilement réglables pour une configuration personnalisée
Conception légère et ergonomique pour les longues séances de bashing
Moteur brushless BLX4074 2050Kv
ESC BLX185 4S/6S étanche (équipé d'un connecteur IC5MC et compatible EC5MC)*
Servo étanche à engrenage métallique ADS-15M de 15kg-cm @ 6V*

*Pour plus de détails sur les normes d'étanchéité électronique, veuillez consulter les manuels d'instructions du produit.
Produits complémentaires nécéssaires
(2) 2S ou 3S 35C+ LiPo avec IC5/EC5 connecteurs ou
(1) 4S ou 6S 35C+ LiPo avec IC5/EC5 connecteurs
(1)chargeur compatible
(4) piles AA (pour l'émetteur)
un sac pour une charge en sécurité
Contenu de la boîte
(1) ARRMA TALION 6S BLX 4WD 1/8 Spped Truggy RTR
(1) Radio Spektrum™ 2,4 GHz STX2® avec récepteur SRX200
(1) Notice d'utilisation
vue d'ensemble
Grâce à son électronique brushless puissante et adaptée au 6S, ce nouveau véhicule TALIONMC Speed Truggy répond aux besoins de vitesse de tout pilote de niveau intermédiaire. Son moteur brushless 2050Kv est jumelé au BLX185 ESC, doté de connecteurs IC5MC compatibles avec les connecteurs standard EC5MC. Les composants électroniques imperméables peuvent être utilisés par tous les temps. Ajoutez votre batterie LiPo 4S ou 6S préférée et regardez ce Truggy dépasser vos attentes de vitesse, de bashing, en particulier si vous courrez avec le pignon optionnel recommandé.
Des roues MT à faible traînée et à moyeux robustes arrivent équipées de pneus KATAR DBoots® multisurfaces et agressifs. Un aileron multi-éléments à haute résistance aide à maintenir le Truggy en contact avec le sol. Ces deux facteurs contribuent à un contrôle en toute sécurité et une maniabilité très réactive sur aspalte ou en tout-terrain.
Le Truggy TALION™ 6S BLX 4WD speed survole la terre, les roches, l'asphalte, l'herbe, la boue et la neige – à travers tous les terrains et toutes les conditions – avec des amortisseurs de 16mm réglables à huile de large alésage qui absorbent les bosses. Les amortisseurs sont montés sur des supports bas en aluminium anodisé noir conçues pour s'adapter au profil bas du Truggy. Les capuchons et protections en aluminium fournies aident à maintenir leur amortissement super-doux et durable pour une conduite des plus agréables
Pour la robustesse nécessaire à ses performances intenses, ARRMA® a basé le TALION™ 6S BLX 4WD sur un solide châssis en aluminium anodisé de 3mm. Les composants du châssis sont tous positionnés pour fournir la meilleure distribution de poids pour la vitesse. Des pièces latérales en composite, un support central et une nouvelle armature centrale en aluminium maximisent la durabilité du châssis. Les différentiels entièrement métalliques et les de boîte de vitesses, ainsi que les arbres de transmission en acier durable, contribuent à une transmission efficace et qui résiste aux conditionsles plus extrêmes. Un nouveau sauve-servo de direction en aluminium « ne se desserrant jamais » et des articulations à rotules qui ne peuvent sauter de leurs capsules offrent plus de précision, de fiabilité et de plaisir de pilotage..
Le support coulissantARRMA® diminue votre temps d'arrêt de maintenance grâce à sa conception intelligente et adaptée au conducteur. Il permet un accès rapide et sans tracas au moteur. Le différentiel central est facile à atteindre et peut être enlevée en ôtant seulement cinq boulons. Pour compléter ce Truggy, lui a été adjoint une carrosserie aérodynamique qui diminue la résistance à l'air pour avoir une vitesse maximale – Tandis que son profil bas contribue à bien garder les roues au sol et offrir toute la puissance disponible.
Le TALION™ 6S BLX 4WD prêt à l'emploi comprend la nouvelle radio Spektrum™ 2.4GHz STX2® avec son récepteur SRX200 et son servo métallique ADS-15M installés d'usine. Les seuls articles requis sont une batterie LiPo 4S ou 6S, un chargeur compatible, un sac de chargement LiPo, et quatre batteries AA.
Video - TALION Introduction
Video - Under The Hood
Firma 150 Smart ESC Upgrade Completion Guide
These are our suggested products to complete this product.
ARRMA 2019 6S BLX Completion Guide - 4S
These are our suggested products to complete this product.
ARRMA 2019 6S BLX Completion Guide - 6S
These are our suggested products to complete this product.
Spécifications du produit