SR6100AT DSMR 6-Channel AVC Telemetry Surface Receiver
The SR6100AT 6-Channel AVC Surface DSMR receiver is loaded with the next generation of Spektrum Technology. It features the latest in AVC Active Vehicle Control, Smart ESC Support, and full range telemetry with XBUS expandability.
Caractéristiques du produit
Récepteur DSMR / DSM2 6 canaux
Capacités de télémétrie à gamme complète avec Spektrum Firma Smart ESC
Idéal pour les modèles qui bénéficieront de la technologie AVC et qui ont besoin de canaux supplémentaires pour les lumières, les servos de changement de vitesse et autres accessoires.
La priorité de la direction donne au conducteur le contrôle total du véhicule
Entièrement réglable : réglez avec précision le degré de stabilité désiré ou désactivez-le si vous le souhaitez.
Revêtement "Realkote" résistant à l'eau pour protéger l'électronique
Port de données du capteur de tension, capteur de tension inclus
Fonctionne avec n'importe quelle voiture, camion ou buggy RC
Compatible avec tous les émetteurs DSMR
Présentation du produit
Construit autour de la technologie DSMR à agilité de fréquence, le récepteur Spektrum SR6100AT à 6 canaux offre une portée et une réponse exceptionnelles, particulièrement dans les endroits où plusieurs systèmes 2,4 GHz sont utilisés en même temps. Le SR6100AT est doté de la technologie brevetée Spektrum AVC (Active Vehicle Control) et de capacités de télémesure à gamme complète. La technologie AVC lit vos entrées de commande, détecte la direction de votre voiture et effectue jusqu'à 180 réglages de direction et de puissance par seconde pour vous permettre de maintenir la ligne sans vous retenir. Le SR6100AT exploite les fonctions de télémétrie des régulateurs électroniques de vitesse Spektrum Smart Technology et des capteurs de température, de vitesse de rotation et de tension classiques via l'adaptateur X-Bus.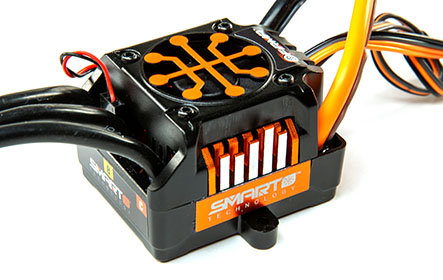 Smart Throttle
Le port d'accélérateur du récepteur SR6100AT comprend une manette des gaz intelligente. Ce port détecte automatiquement lorsqu'une commande électronique de vitesse Smart throttle est branchée et le port throttle commence à fonctionner en mode Smart throttle. Lorsqu'elles sont combinées avec des batteries Spektrum Smart LiPo avec connecteurs série IC, elles peuvent transmettre les données des batteries compatibles Spektrum Smart. Le SR6100AT dispose également de deux ports de télémétrie intégrés qui sont compatibles avec les émetteurs DSMR compatibles avec la télémétrie. Si un ESC ou un servo standard est branché sur l'orifice de papillon du récepteur SR6100AT, l'orifice de papillon fonctionnera normalement comme n'importe quel récepteur conventionnel.
Technologie AVC
Avec le SR6100AT, le conducteur obtient le contrôle de stabilité pour n'importe quel véhicule de sa collection ! Vous pouvez avoir le contrôle de stabilité de la technologie AVC™ (Active Vehicle Control) dans n'importe quel véhicule simplement en ajoutant le récepteur SR6100AT et en le liant à un émetteur compatible AVC. La technologie AVC crée une expérience de conduite plus agréable en gérant les caractéristiques de conduite et l'attitude du véhicule. Cela se traduit par un meilleur contrôle pour vous et un véhicule plus facile à gérer dans tous les environnements de conduite.
Product Fitments
No results for your given fitment filters
Spécifications du produit
Product Length
1.7" (42.4mm)
Product Height
0.59" (15.1mm)
Product Weight
0.35oz (10g)
Antenna Length
4.7" (120mm)
Product Width
0.94" (23.9mm)
Flight Log Compatible
Yes