1/8 OUTCAST 6S BLX 4WD Brushless Stunt Truck with Spektrum RTR
1/8 OUTCAST 6S BLX 4WD EXtreme Bash Stunt Truck RTR, Black
ARA8710
Voir les détails du produit alternatif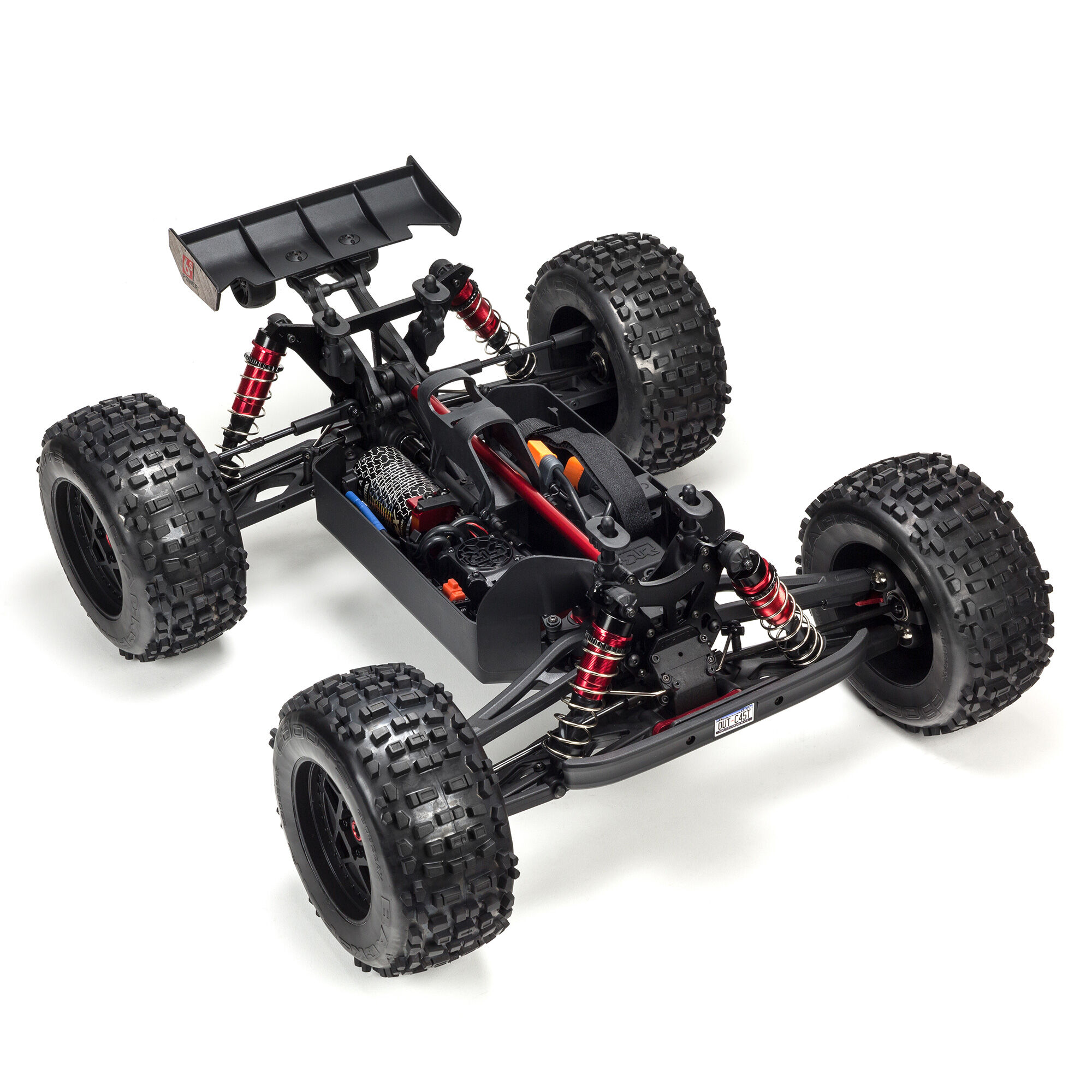 l'introduction
Avec sa propulsion brushless 6S et sa conception robuste le BLX 4WD 6SOUTCAST™ ARRMA® offre le couple, l'accélération et la vitesse pour des cascades extrêmes. Complété par la nouvelle radioSTX2® SpektrumMC de 2,4 GHz, il est prêt à défier la gravité dès qu'il sort de sa boîte!
Caractéristiques principales
Prêt à rouler
Extrêmement résistant
Capable des pires cascades
Châssis aluminium anodisé
Corps à support central
Entretoise centrale aluminium
Solide châssis composite avec renforts latéraux
Transmission robuste
Conduite de véhicules lourds
entraînements de différentiels entièrement métalliques et internes
Arbres en acier durables
Montage moteur coulissant facile d'accès
Dépose du différentiel central par dévissage de seulement 5 boulons
sauve-servo en aluminium rouge ''indésserrable''
Amortisseurs à huile réglables
Pare-chocs AV et AR en aluminium anodisé noir
Couleur carrosserie en argent mat ou orange mat
Roues spéciales cascade et pneus multiterrains DBootsMD Back-Flip
Grand aileron
Arceau de sécurité interne
barre ''Wheelie''
Écrous de moyeux à joints toriques
moyeux de roue ultra résistants
Radio Spektrum™ 2,4 GHz STX2® avec récepteur SRX200
Volant ergonomique pour un contrôle précis dans toutes les conditions
Cadrans facilement réglables pour une configuration personnalisée
Conception légère et ergonomique pour les longues séances de cascades
Moteur brushless BLX4074 2050Kv
ESC BLX185 4S/6S étanche (équipé d'un connecteur IC5MC et compatible EC5MC)*
Servo étanche à engrenage métallique ADS-15M de 15kg-cm @ 6V*

*Pour plus de détails sur les normes d'étanchéité électronique, veuillez consulter les manuels d'instructions du produit.
Produits complémentaires nécéssaires
(2) 2S ou 3S 35C+ LiPo avec IC5/EC5 connecteurs ou
(1) 4S ou 6S 35C+ LiPo avec IC5/EC5 connecteurs
(1)chargeur compatible
(4) piles AA (pour l'émetteur)
un sac pour une charge en sécurité
Contenu de la boîte
(1) ARRMA OUTCAST 6S BLX 4WD Stunt Truck RTR
(1) Radio Spektrum™ 2,4 GHz STX2® avec récepteur SRX200
(1) Notice d'utilisation
vue d'ensemble
The OUTCAST™ 6S BLX 4WD Stunt Truck goes anywhere - over all terrain, in all conditions. From its heavy-duty front bumper to the wheelie bar in back, it's engineered to make you an RC stunt action hero. The OUTCAST™ can do it all: long, tall wheelies…tight, fast donuts…standing and aerial backflips…high leaps into the air…and more.
You need plenty of power for that level of stunt action. That's why ARRMA® has outfitted the new OUTCAST™ Stunt Truck with a potent, 6S-capable brushless system including a 2050Kv motor paired with the BLX185 ESC (featuring IC5™ connectors compatible with standard EC5™ connectors). Bashing is a "go" even through mud and snow, thanks to waterproof electronics. Add your favorite 4S or 6S LiPo battery and watch the OUTCAST™ execute radical stunts!
With adjustable 4mm oil-filled shocks on aluminum towers soaking up bumps, the OUTCAST™ 6S BLX 4WD Stunt Truck blasts over dirt, asphalt, and grass. Its tough stunt truck wheels come outfitted with multi-terrain dBoots® BACK-FLIP tires that provide all the traction you'll need to flip, grip, wheelie, and spin. A high downforce wing helps keep the vehicle grounded - and a wheelie bar is there for when only 90 degree wheelies will do! Everything about the OUTCAST™ contributes to confident control and responsive handling at thrilling high speeds.
For the durability needed to support extreme stunts, ARRMA® uses a strong anodized aluminum chassis as the foundation. A center body support and aluminum center brace plus composite chassis side pods add more strength. All-metal diff outdrives and gearbox internals plus durable steel driveshafts provide a reliable, heavy-duty drivetrain that holds up to extreme stunts and high-speed bashing. A new "never loose" aluminum steering servo saver and "never pop" ball ends supply more precision, reliability and confidence.
ARRMA® keeps your maintenance downtime to the minimum with an efficient, driver-friendly design. A new sliding mount allows quick, hassle-free motor access. The center diff is easy to reach and can now be removed by taking out just five bolts. Topping it all off is a truck body with streamlined good looks, featuring a dark silver or matte orange finish.
The ready-to-run OUTCAST™ 6S BLX 4WD Stunt Truck includes the new Spektrum™ 2.4GHz STX2® transmitter and comes with its SRX200 receiver and ADS-15M metal-geared servo already factory-installed. The only required items are a 4S or 6S LiPo battery, compatible charger, safe charging bag, and 4 x AA transmitter batteries. ARRMA® recommends the Dynamite® Powerstage™ Stage 6 bundle (DYN1540), which includes a Passport™ Ultra P2 100W AC/DC Multi-Charger and two Reaction HD 5000mAh 3S hardcase LiPo batteries with EC5™ connectors.
Video - OUTCAST Introduction
Video - Under The Hood
Firma 150 Smart ESC Upgrade Completion Guide
These are our suggested products to complete this product.
ARRMA 2019 6S BLX Completion Guide - 4S
These are our suggested products to complete this product.
ARRMA 2019 6S BLX Completion Guide - 6S
These are our suggested products to complete this product.
Spécifications du produit