1/8 KRATON 4X4 EXtreme Bash Roller Speed Monster Truck, Black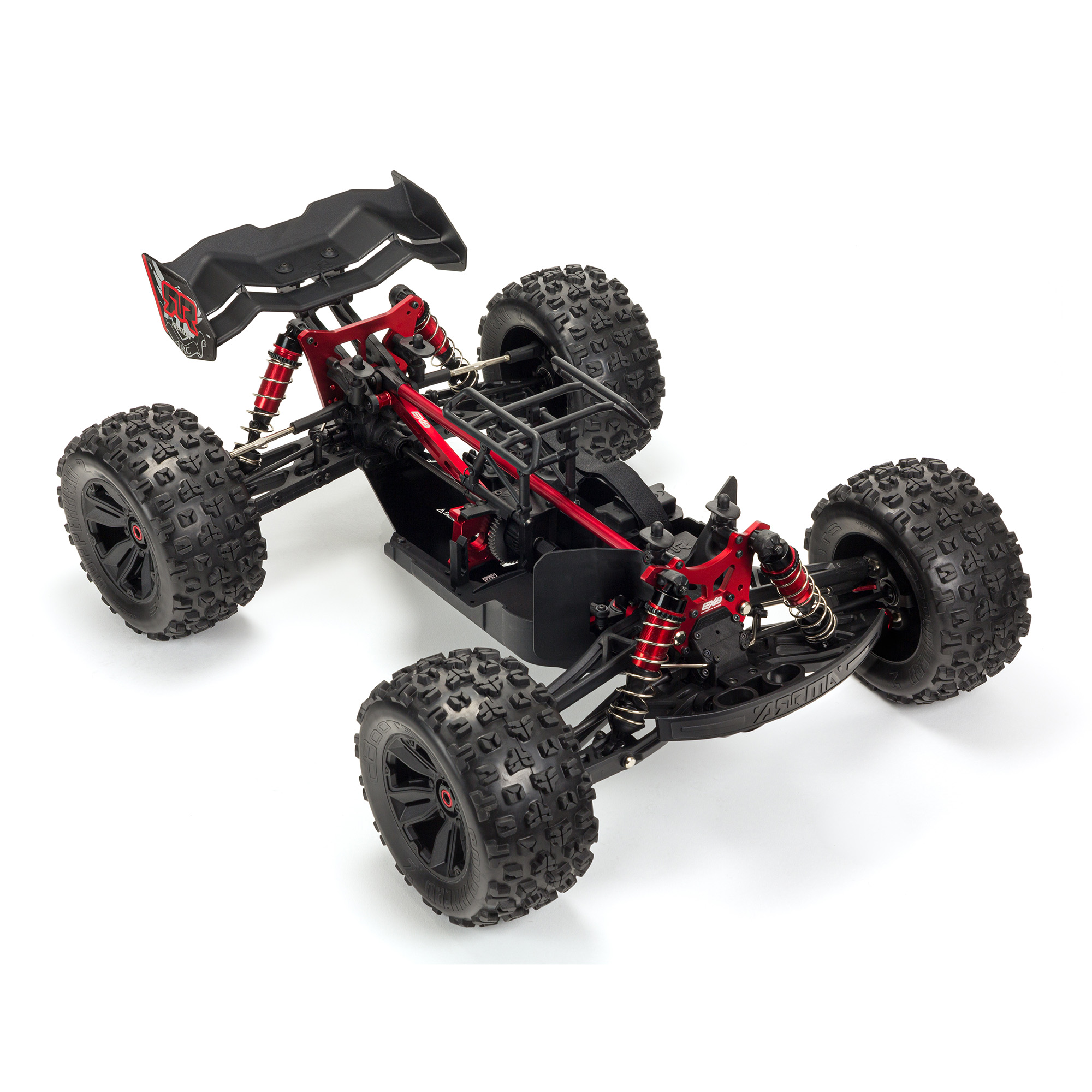 Features
Designed Fast, Designed Tough
EXB (EXtreme Bash) components for extreme durability
7075 T6 Aluminum laser-etched chassis plate
Aluminum front and rear chassis braces
Center body support and brace for maximum durability
Strong composite chassis side pods
Aluminum front upper hanger, top plate, and rear suspension mount
Heavy-duty front and rear arms with aluminum strengthening cap
Heavy-duty steel turnbuckles
Heavy-duty front upper steel hinge pins
Heavy-duty drivetrain
Durable steel driveshafts
All-metal diff outdrives and gearbox internals
Plated limited-slip differentials
Safe-D input gears
Oil-filled adjustable shocks
7075 T6 Anodized aluminum front and rear shock towers
Red-anodized aluminum servo mount
Large volume waterproof receiver box
Black matte and gloss effect body
Front bumper
High downforce wing
Multi-terrain DBoots® Copperhead™ 2 tires on multi-split spoke wheels
Durable wheel hubs
2-year warranty (see website support for details)
Overview
"Designed Fast, Designed Tough" may be an understatement when describing the KRATON® EXtreme Bash Roller Monster Truck. Made of strong anodized 7075 T6 aluminum, the laser-etched chassis plate gains further rigidity from the use of front and rear aluminum chassis braces. Strong composite chassis side pods and a center body support and brace provide more rugged resilience.
Durable steel driveshafts plus all-metal diff outdrives and gearbox internals keep the heavy-duty 4-wheel drivetrain rolling over punishing tracks. An EXtreme Bash toughened suspension system smooths the ride, with a steel rear suspension mount and adjustable oil-filled shocks mounted on 7075 T6 anodized aluminum front and rear shock towers.
The KRATON™ EXtreme Bash Roller Monster Truck's list of EXB components also includes the following — and more — to give this big machine uncompromising muscle:
EXB Heavy-duty front and rear arms with aluminum strengthening cap
EXB Heavy-duty steel turnbuckles
EXB Heavy-duty front upper steel hinge pins
EXB Plated limited-slip differentials
EXB Red-anodized aluminum servo mount
EXB Large volume waterproof receiver box
EXB Front bumper
Its aggressive dBoots® Copperhead™ 2 tires arrive mounted on multi-spoke wheels with durable hubs to deliver all-terrain traction — assisted by a high downforce wing that adds an aggressive edge to the look of the exclusive EXB matte and gloss effect finished truck body.
EXCLUSIVE EXB MATTE & GLOSS EFFECT BODY
ETCHED TO PERFECTION
EXB FOR EXTREME BASH TOUGHNESS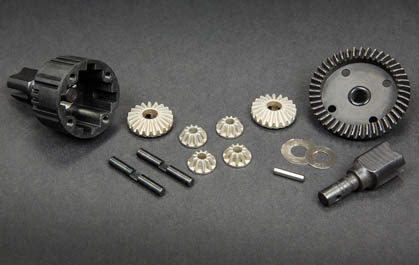 REDESIGNED ALL-METAL INTERNALS THROUGHOUT FOR HANDLING GREATER POWER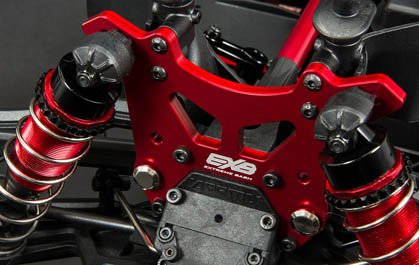 EXB ALUMINUM FRONT SHOCK TOWER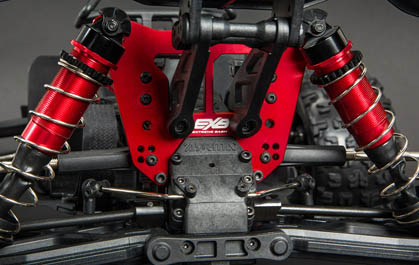 EXB ALUMINUM REAR SHOCK TOWER
EXB PLATED LIMITED SLIP DIFFERENTIAL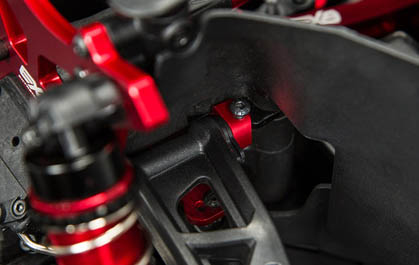 RED ANODIZED ALUMINUM FRONT UPPER HANGER
WIDER TOOTH PROFILE = STRONGER GEARS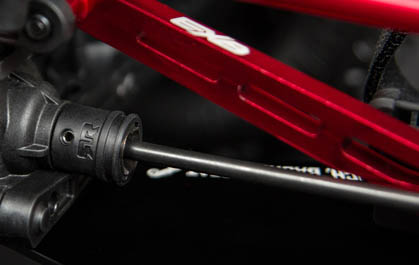 SAFE D FIRST - PLASTIC LOCKING SLEEVE, NO RED THREAD LOCK REQUIRED
RUBBER SHIELDED BEARINGS THROUGHOUT
EXB HEAVY-DUTY STEEL TURNBUCKLES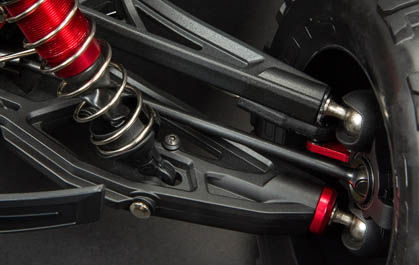 HEAVY-DUTY FRONT ARMS WITH ALUMINUM STRENGTHENING CAPS
HEAVY-DUTY REAR ARMS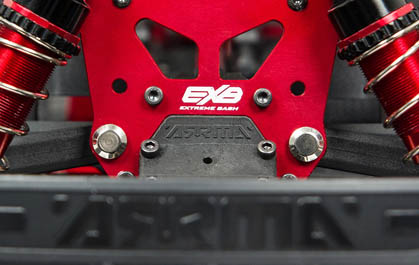 EXB HEAVY-DUTY FRONT UPPER STEEL HINGE PINS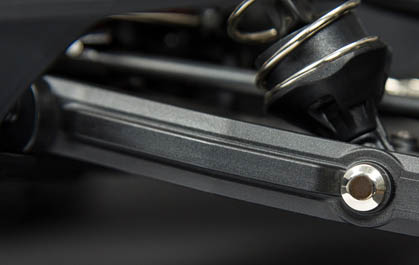 EXB HEAVY-DUTY FRONT & REAR SHOCK PINS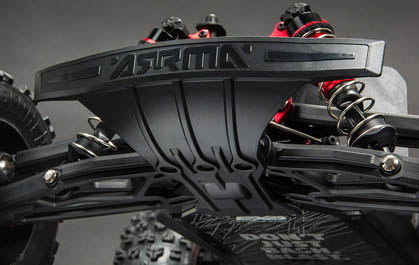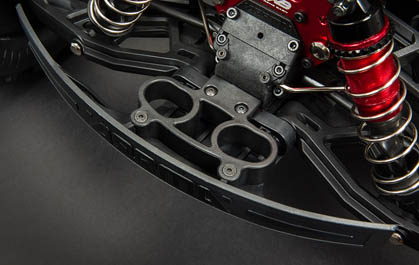 EXB FRONT BUMPER WITH BUILT IN SKID PROTECTION AND CRASH ABSORBING DESIGN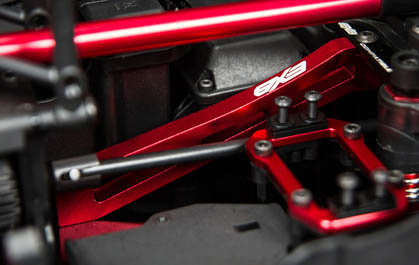 EXB FRONT ALUMINUM CHASSIS BRACE
EXB REAR ALUMINUM CHASSIS BRACE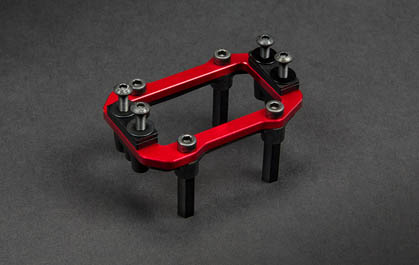 EXB ANODIZED ALUMINUM SERVO MOUNT
LARGE VOLUME WATERPROOF RECEIVER BOX
4S Completion Guide
These are our suggested products to complete this product.
6S Completion Guide
These are our suggested products to complete this product.
Product Specifications
Speed Control
Sold Separately
Wheelbase
14.84 in (377mm)
Approximate Assembly Time
1-3 Hours
Body
Painted, decaled and trimmed
Tire Tread
dBoots COPPERHEAD2
Vehicle Type
Monster Truck
Battery Tray Dimensions
7.1 x 2.2 x 2.7 in (180 x 55 x 70mm)
Product Width
18.15" (461 mm)
Chassis
CNC 7075-T6 Aluminum plate, 0.12" (3mm) thick
Drive Type
Forward/Brake/Reverse
Product Height
7.68" (195 mm)
Differential
Three oil-filled metal gear
Shock Type
Adjustable, oil-filled, coil-over springs
Product Length
23.39" (594 mm)