1/7 MOJAVE 6S BLX 4WD Brushless Desert Truck RTR
1/7 MOJAVE 6S V2 4X4 BLX Desert Truck with Spektrum Firma RTR
ARA7604V2
View Alternate Product Details

Introduction
Experience the speed and durability of ARRMA® bashing in a big way with the 1/7 scale brushless MOJAVE™ 6S BLX Desert Truck. Designed Fast and Designed Tough, it's ready for extreme performance right out of the box, whether you're blasting through coastal sand dunes or thrashing across concrete sidewalks. The MOJAVE™ 6S BLX has the muscle to overcome almost anything in its path. Its 2050Kv brushless motor and 4S/6S brushless ESC provide the potential for competition-crushing speeds. The MOJAVE™ 6S BLX also comes factory-equipped for incredible handling and precise control, with a high-quality Spektrum™ 2.4GHz radio system, durable metal gear servo, and dBoots® FORTRESS tires that find solid traction on a wide range of surfaces. The multi split-spoke wheels are color-coordinated with the matte and gloss finished desert truck body, which features realistic cockpit details.
Features
ARRMA's first 1/7th Scale off-road model
Ready-to-run
Desert Truck styling
Brushless power
6S LiPo capable
Metal gears
60+ MPH (95km/h) speeds achievable in optimum conditions on 6S LiPo with optional included pinion gear
Anodized aluminum chassis
Strong composite chassis side pods
Center brace for maximum durability
Center roll hoop interfaces with body roll cage for enhanced body durability
Nerf bars for body and side impact support
Realistic, detailed front and rear bumpers for impact protection
Independent suspension for superior handling
Flexible front bumper valance
Heavy-duty suspension arms with red-anodized aluminum strengthening cap
Oil-filled adjustable shocks
Black-anodized aluminum front and rear shock towers
Durable steel driveshafts
Heavy-duty drivetrain
All-metal diff outdrives and gearbox internals
Never-loose red aluminum servo saver
Never-pop ball ends
4-Bolt center diff removal
Easy-access sliding motor mount
Super-durable wheel hubs for increased strength
Color-coordinated multi split-spoke wheels
Multi-terrain dBoots® FORTRESS tires
Multi-finish matte and gloss body
Realistic cockpit detail
Ultra-detailed decals
Color coordinated protective roll cage and roof rails
Spektrum™ STX2® 2.4GHz Radio Features
Ergonomic steering wheel for precise control in all conditions
Easily adjustable trim dials for personalized handling set-up
Lightweight and ergonomic design for long bashing sessions
SRX200 3-channel FHSS receiver
ADS-15M waterproof* 15kg-cm metal-geared servo (195 oz-in @ 6V)
* For details on waterproof standards, please refer to the product instruction manuals.
Overview
When you're heading into the rough with your 1/7 scale brushless MOJAVE™ 6S BLX Desert Truck RTR, you can be confident you'll have the speed and strength needed to make it through. The tough-as-nails anodized aluminum chassis has been reinforced with a center brace for maximum durability. Bumpers and nerf bars supply impact protection on all sides. Thanks to an independent suspension with bump-soaking oil-filled shocks, the truck handles equally well over wicked and well-travelled tracks.
The drivetrain is a masterpiece of heavy-duty design. Featuring steel driveshafts, metal gears, and all-metal diff outdrives, it's ready to take full advantage of the brushless power system's potential. As it comes out of the box, the MOJAVE™ 6S BLX Desert Truck is incredibly fast. Use a 6S LiPo with the optional pinion gear upgrade (gear is included), and the dial goes up to unbeatable — the resulting 60+ MPH speed potential is enough to crush any competitor. Keeping your truck in top form is easy. A sliding mount gives you access to the motor in seconds. You can remove the center diff for maintenance by taking out just four bolts.
Multi-terrain dBoots® tires on multi split-spoke wheels give your MOJAVE™ 6S BLX Desert Truck the grip to get up, over, or through anything in your way. And it doesn't just perform like a winner. It looks like one, too, with a painted and decaled desert truck body, color-coordinated roll cage and roof rails, and even a detailed cockpit.
The ready-to-run MOJAVE™ 6S BLX Desert Truck comes with a Spektrum™ STX2® 2.4GHz radio whose lightweight, comfortable design is ideal for long bashing sessions. The ergonomic steering wheel gives you precise control, and easily adjustable trim dials make it easy to tune the handling to your personal touch.
Needed to Complete
(4) AA Batteries
(1) 4S or 6S LiPo Battery
(1) LiPo Compatible Charger
(1) LiPo Charging Bag or Case
What's in the Box?
(1) ARRMA® MOJAVE™ 6S BLX 1/7 Desert Truck RTR with:

(1) ARRMA® BLX 185 ESC 4S/6S with IC5™ Connectors (installed, EC5™ compatible)
(1) ARRMA® BLX4074 2050Kv Brushless Motor (installed)
(1) Spektrum™ SRX200 3-Channel 2.4GHz FHSS Receiver (installed)
(1) ARRMA® ADS-15M Metal-Geared Servo (installed)

(1) Spektrum™ 2.4GHz STX2® FHSS Transmitter
(1) Product Manual
Video Overview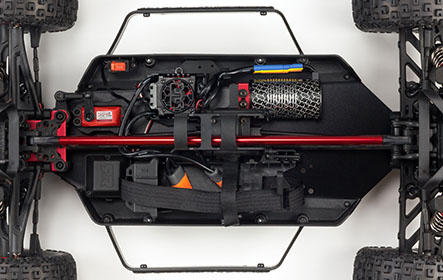 BRACE FOR IMPACT
The aluminum center brace maximizes chassis durability.
DETAILED FRONT & REAR BUMPERS
Provides superior impact protection without sacrificing aesthetics.
LONG RANGE
Independent suspension with a long travel range for superior handling
FROM STRENGTH TO STRENGTH
Suspension includes red anodized aluminum strengthening cap with pivot ball geometry.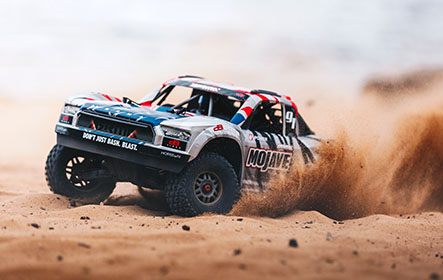 ADDITIONAL BODY COLOR OPTION
Silver and red body option available for those wanting a different look and quick, easy way to customize their bashing experience.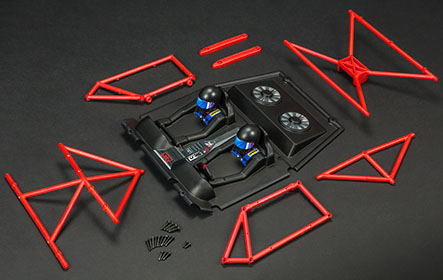 COLOR COORDINATED
Roof rails and roll cage parts that match each other and also match any of the 3 body styles.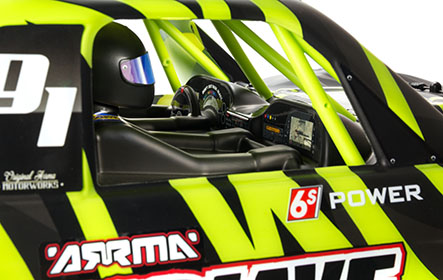 REALISTIC DETAILS
The 1/7 MOJAVE Desert Truck comes with ultra detailed decals and molded-in accessories for added large scale realism .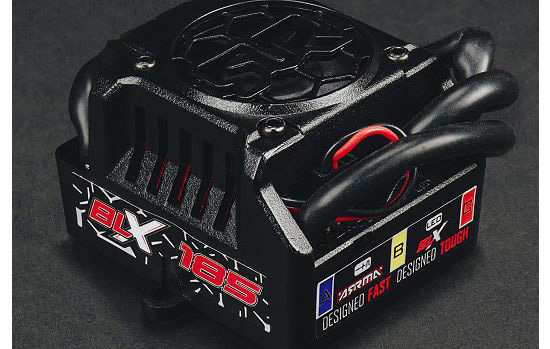 BLX185 ESC
Waterproof and dustproof design *
150A, 6S LiPo ready (3S, 4S and 6S LiPo compatible)
Fitted with reliable IC5™ connectors (EC5™ compatible)
Integrated fan for reduced heat during extreme running
High quality 10awg wires
Low voltage cut off and thermal overload protection
User programmable punch and brake settings
* For details on waterproof standards, please refer to the product instruction manuals.
BLX4074 2050Kv BRUSHLESS MOTOR
Beautifully etched aluminum can
4-pole construction for smooth and consistent power
Gold bullet connectors for reliable and efficient connection
Finned motor can for increased heat dissipation
Super strong 5mm shaft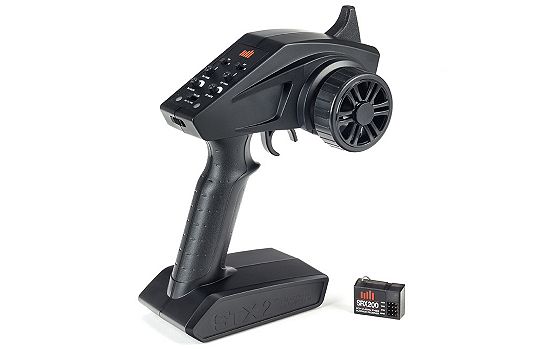 SPEKTRUM STX2 RADIO SYSTEM
Complete 2.4GHz radio system including a 2Ch waterproof receiver *
Built-in 3-position throttle limiter
Steering & throttle rate & trim adjustments with throttle and steering reversing
FHSS 2.4GHz protocol** offers extended range and interference free performance
* For details on waterproof standards, please refer to the product instruction manuals.
** Not compatible with DSM, DSM2 or DSMR 2.4GHz protocol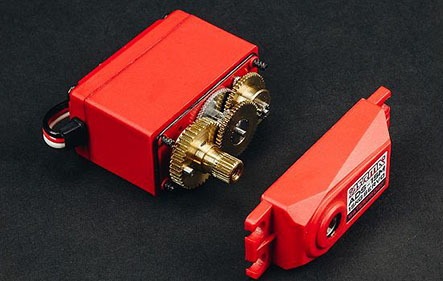 ADS-15M SERVO
Strong metal gears used throughout
Waterproof and dustproof case *
25 tooth output spline
Torque: 14kg-cm @6V
Speed: 0.16sec/60degree @6V
Dimensions: 40x38x20mm (Industry standard size)
* For details on waterproof standards, please refer to the product instruction manuals.

Smart Setup
These are our suggested products to complete this product.
Product Specifications
Approximate Assembly Time
Less than 1 Hour
Body
Painted, trimmed with decals applied, matte and gloss finish
Brakes
Integral with speed control
Wheel Width
1.66" (42.2mm)
Chassis
0.12" (3mm) thick 6061-T6 aluminum
Completion Level
Ready-To-Run
Product Height
10.59" (269mm)
Front Track
13.98 in (355mm)
Outer Diameter
5.47 in (139mm)
Product Width
13.98" (355mm)
Rear Track
13.98 in (355mm)
Product Length
28.15" (715mm)
Product Weight
11.88lbs (5.4kg)
Vehicle Type
Desert Truck
Differential
Three gear diffs
Shock Type
Oil-filled coil-over springs
Wheel Type
Multi split spoke