1/7 LIMITLESS All-Road Speed Bash: Roller
1/7 LIMITLESS V2 Speed Bash Roller
ARA7116V2
View Alternate Product Details
Features
LIMITLESS™ 4WD is the first-ever ARRMA® street basher.
As a roller, the LIMITLESS 4WD lets intermediate to advanced drivers customize their machine for as much speed and power as their skills and budgets allow.
The LIMITLESS 4WD is a speed basher that lives up the ARRMA promise of being "DESIGNED FAST and DESIGNED TOUGH."
Low-drag body comes screen-printed, trimmed and decaled
Customizable front and rear wings allow you to tune downforce and drag just how you want it
Full-width front splitter balances front vs. rear distribution of downforce
Rear diffuser helps generate downforce
Designed to easily handle triple digit speeds
3mm plate, 6061-T6 anodized aluminum chassis
Center chassis brace for maximum durability
Adjustable front and rear body mounts
Easy-access sliding motor mount for quick motor removal
Dual XL battery trays
Waterproof receiver box
Heavy-duty servo saver
Heavy-duty 4X4 drivetrain
Durable steel drive shafts
All-metal diff outdrives and gearbox internals
Easy-access diff module with 4-bolt center diff removal
Independent suspension
Big bore aluminum oil-filled shocks
Black-anodized aluminum front and rear shock towers
Speed Wheels and all-road dBoots Hoons tires tested to withstand speeds in excess of 150 mph
Super-durable wheel hubs for strength
Hub nut O-rings
2-year limited warranty (see product manual for details)
Overview
The LIMITLESS street basher excels on all roads, in all conditions: on loose gravel, asphalt, or short grass, and in the sun, rain, or even ice. It's bash-hardened and fully customizable, allowing you to tune the aerodynamic balance just how you want it.
In addition to the low drag LIMITLESS body, which comes already trimmed and decaled, we've included front and rear wings that can be customized to tailor the downforce to your preference. To further enhance the aerodynamics, the chassis design includes a front splitter to balance downforce distribution and a rear diffuser that increases downforce and grip, enabling you to corner faster and with confidence.
DESIGNED FAST, DESIGNED TOUGH — underneath the aerodynamically engineered body is a 3mm anodized aluminum chassis with a center brace for maximum strength. The heavy-duty 4X4 drivetrain features durable steel drive shafts plus all-metal diff outdrives and gearbox internals. The diff module can be removed by taking out just four bolts, making maintenance as speedy as the LIMITLESS roller itself. A sliding mount makes motor access quick and easy, too.
Big bore oil-filled shocks on black-anodized front and rear shock towers keep the dBoots Hoons all-road tires firmly planted for maximum traction. The tires are mounted on speed wheels with extra-durable hubs.
Video Overview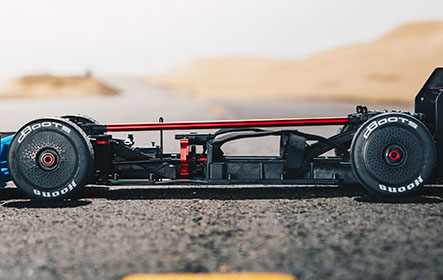 FEEL THE EMBRACE
Center brace for maximum durability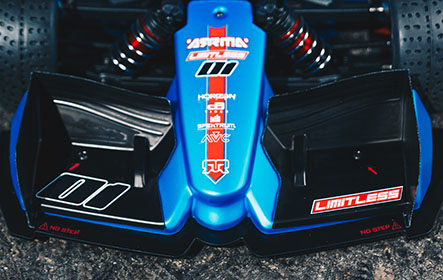 AERODYNAMIC DUO
Aerodynamic nose-cone and front wing with a splitter to increase downforce and provide maximum control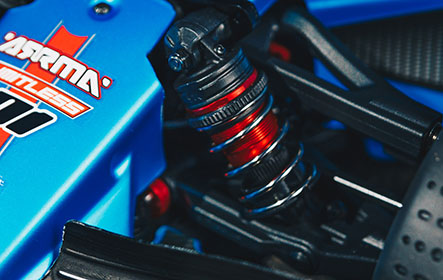 BIG BORE SHOCKS
For when all-road means all-roads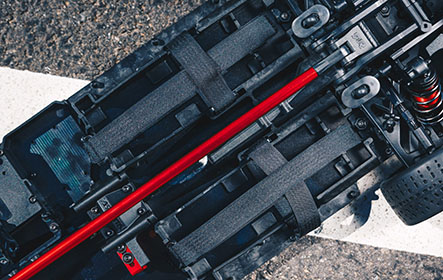 LARGER THAN LIFE
Two large battery trays with hook and loop straps accomodate a wide range of battery sizes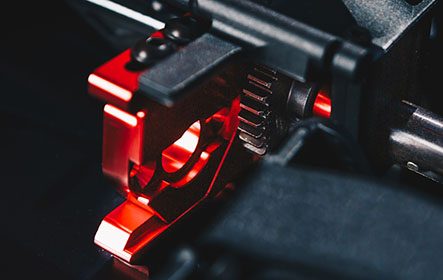 EASY DOES IT
Sliding motor mount for smooth meshing and removal with easy-access center spool
FULLY INTEGRATED AERODYNAMICS
Integrated black anodized chassis and diffuser for slick underside airflow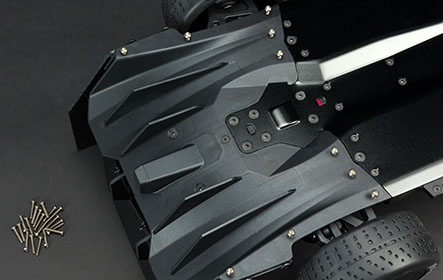 MAKE THE MARKS, CREATE THE SPARKS
See the sparks fly by using optional titanium screws* in the underside of the rear diffuser
*Sold separately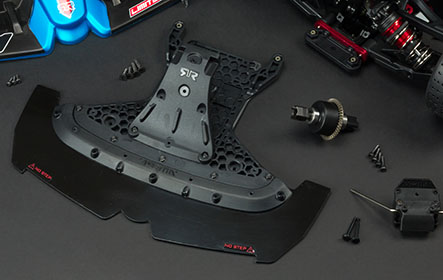 EASY-ACCESS DIFFERENTIALS
Front and rear diffs are quickly and easily accessed for rapid tuning and maintenance
HEAVY-DUTY
Tough A-arms and drivetrain components keep you bashing for longer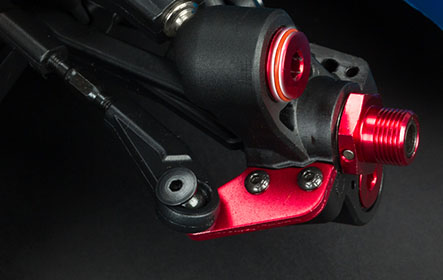 CAPTURED & SEALED
Captured ball ends that will never pop off and hub nut o-rings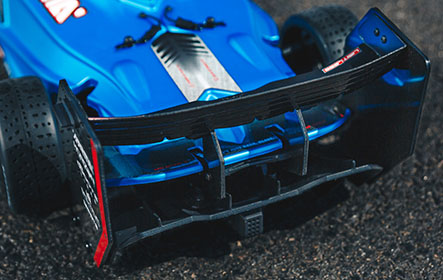 REAR AIRFLOW
Tunable rear wing and large wing end plates in addition to the diffuser, for maximum stability at all speeds
EASY-ACCESS, EASY MAINTENANCE
5 bolt center spool removal
4S Completion Guide
These are our suggested products to complete this product.
6S Completion Guide
These are our suggested products to complete this product.
8S Completion Guide
These are our suggested products to complete this product.
Product Specifications
Differential
Three oil-filled metal gear
Max Battery Dimensions
5.5 x 1.8 x 1.5 in. (139 x 46 x 39mm)
Rear Shock Spring Rate
6.6N/mm
Shock Type
Big Bore aluminum body oil-filled
Front Track
12.13" (308mm)
Outer Diameter
3.94 in (100mm)
Product Width
12.20" (310mm)
Front Shock Spring Rate
4.7N/mm
Product Height
6.5" (165mm)
Ground Clearance
0.59" (15mm)
Internal Gear Ratio
3.3:1
Motor Size
Non-sensored brushless (sold separately)
Product Length
28.74" (730mm)
Rear Track
12.01" (305mm)
Speed Control
Sold Separately
Product Weight
8.6lbs (3.9kg)
Approximate Assembly Time
1-3 Hours