1/7 INFRACTION All-Road Street Bash 6S BLX with Spektrum RTR with AVC
1/7 INFRACTION 6S BLX V2 All-Road Truck RTR
ARA7615V2
View Alternate Product Details

Introduction
Take your truck bashing to the street with the ready-to-run ARRMA® INFRACTION™ 6S BLX 4WD. It's the first RC truck of its kind — DESIGNED FAST and DESIGNED TOUGH for hard-hitting action at speeds of 80+ mph with 6S power!
Features
The first resto-mod street basher truck with the versatility to run on- and off-road.
Capable of 80+ MPH (129+ km/h) speeds with 6S power and the included speed pinion.
4X4 traction — can be run on asphalt, gravel, smooth dirt, or short grass.
DESIGNED FAST and DESIGNED TOUGH.
Classic truck body comes screen-printed, trimmed and decaled
Customizable wing allows you to tune downforce just how you want it
Full-width front splitter balances front vs. rear distribution of downforce
Rear diffuser helps generate downforce
3mm plate, 6061-T6 anodized aluminum chassis
Center chassis brace for maximum durability
Adjustable front and rear body mounts
Easy-access sliding motor mount for quick motor removal
Dual XL battery trays
Waterproof receiver box
Heavy-duty servo saver
Heavy-duty 4X4 drivetrain
Durable steel drive shafts
Center diff for improved handling on loose or slippery surfaces
All-metal diff outdrives and gearbox internals
Easy-access diff module with 5-bolt center diff removal
Independent suspension
Big bore aluminum oil-filled adjustable shocks
Black-anodized aluminum front and rear shock towers
5-Spoke wheels and all-road dBoots® Hoons tires
Super-durable wheel hubs for strength
Hub nut O-rings
Spektrum™ DX2E Active™ radio
Spektrum DSMR™ SRS6000 receiver with AVC® Active Vehicle Control™
ADS-15M waterproof* metal-geared servo
BLX4074 2050Kv brushless motor
BLX185 waterproof* ESC
2-year limited warranty (see product manual for details)
*For details on waterproof standards, please refer to the product instruction manuals
Needed to Complete
Two 2-3 Cell Hardcase LiPo batteries with IC5/EC5 connectors
LiPo balancing charger
What's in the Box?
(1) INFRACTION™ 1/7 BLX Street Bash 4WD Resto-Mod RTR Truck
(1) Product Manual
Overview
With its 4X4 traction, you can run the INFRACTION 6S BLX on all roads, in all conditions — over loose gravel, asphalt, smooth dirt, and short grass, in the sun, rain, and ice.
The INFRACTION 6S BLX offers classic truck looks for street bashing. The body comes factory-finished with a matte bronze camouflage trim and decals. Its included, tunable wing lets you customize the downforce the way you want it. To further enhance the aerodynamics, the chassis includes a full-width front splitter that balances downforce distribution. A rear diffuser increases downforce and grip, enabling you to corner faster and with confidence.
DESIGNED FAST, DESIGNED TOUGH — underneath the truck body is a 3mm anodized aluminum chassis with a center brace to maximize strength. The heavy-duty 4X4 drivetrain features durable steel drive shafts plus all-metal diff outdrives and gearbox internals. The center diff module can be removed by taking out just five bolts, making maintenance as fast as the INFRACTION 6S BLX truck itself. A sliding mount allows quick, easy motor access, and dual XL battery trays are included.
Big bore, oil-filled shocks on black-anodized front and rear shock towers keep the dBoots® Hoons all-road tires firmly planted for maximum traction. The tires are mounted on 5-spoke wheels with extra-durable hubs.
For ready-to-run completeness, ARRMA has equipped the INFRACTION 6S BLX with a 2050Kv brushless motor, waterproof ESC and metal-geared servo. Its Spektrum™ DX2E Active™ radio system features AVC® Active Vehicle Control™ for dialing in the stability you need to carve corners or nail jumps without backing off the throttle. The only additional items required are two 2S or 3S LiPo batteries with IC5™ or EC5™ connectors, a LiPo-compatible charger, charging bag, and 4 "AA" batteries for the transmitter.
Video Overview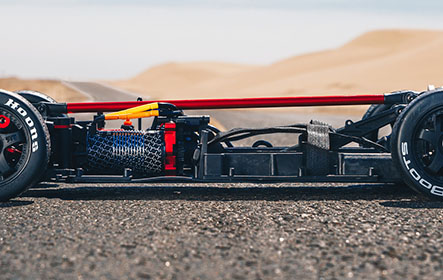 BRACE AS ONE
Center brace for maximum durability
AERODYNAMIC DUO
Aerodynamic nose-cone and front wing with a splitter to increase downforce and provide maximum control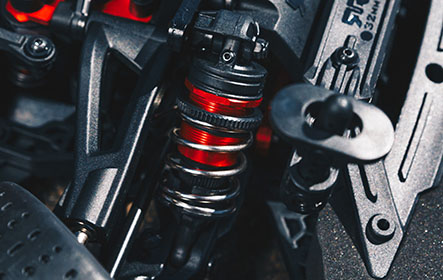 BIG BORE SHOCKS
For when all-road means all-roads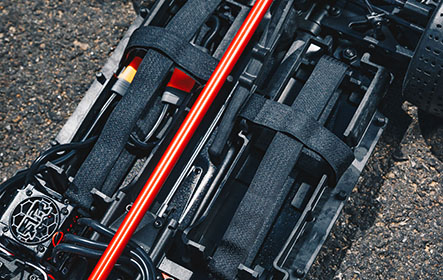 LARGER THAN LIFE
Two large battery trays with hook and loop straps accomodate a wide range of battery sizes
SCALE & POLISH
Premium matte body finish with intricate decals and details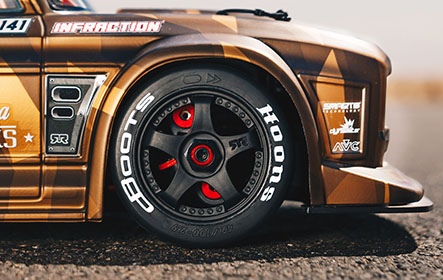 ALL-ROAD AGGRESSION
dBoots® HOONS tires designed for extreme all-road action and 5-spoke wheels
ROLL PROTECTION
Roll-bars and roof rails - ARRMA TOUGH, for any upside down action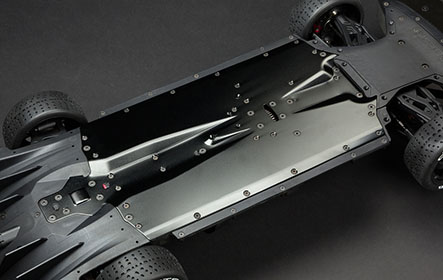 FULLY INTEGRATED AERODYNAMICS
Integrated black anodized chassis and diffuser for slick underside airflow
BLX185 6S Brushless ESC
Waterproof and dustproof design
150A, 6S LiPo ready (3S, 4S and 6S LiPo compatible)
Fitted with reliable IC5™ connectors (EC5™ compatible)
Integrated fan for reduced heat during extreme running
High quality 10awg wires
Low voltage cut off and thermal overload protection
User programmable punch and brake settings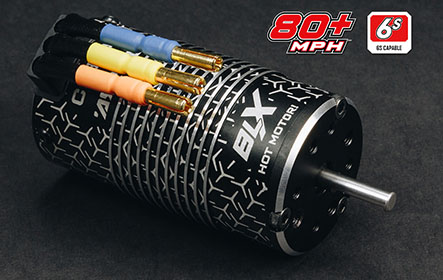 BLX4074 2050Kv Brushless Motor
Beautifully etched aluminum can
4-pole construction for smooth and consistent power
Gold bullet connectors for reliable and efficient connection
Finned motor can for increased heat dissipation
Super strong 5mm shaft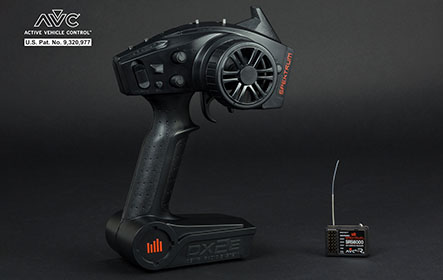 SPEKTRUM DX2E ACTIVE RADIO & SRS6000 RECEIVER
Ergonomic steering wheel, for precise control in all conditions
On-the fly adjustable AVC® gain for personalized handling setup
Lightweight and ergonomic design for long bashing sessions
Fully waterproof and dustproof ARRMA radio box
Built-in 3-position throttle limiter
Steering, throttle rate & trim adjustments with throttle and steering reversing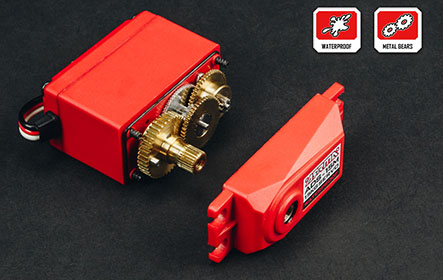 ADS-15M Servo
Strong, metal gears used throughout
Waterproof and dustproof case
25 tooth output spline
Torque: 14kg-cm @6V
Speed: 0.16sec/60degree @6V
Dimensions: 40x38x20mm (Industry standard size)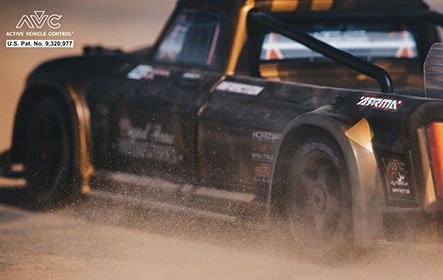 AVC® INCLUDED
Spektrum Active Vehicle Control™ system for some help when things get loose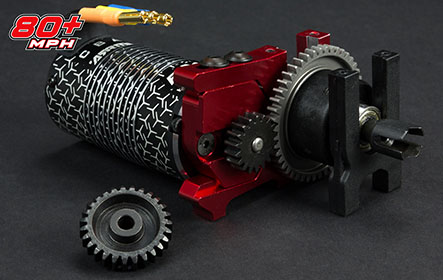 OPTIONAL SPEED PINION INCLUDED
Red anodized motor mount and Mod 1 spur and pinion gears to handle optimum performance
MAKE THE MARKS, CREATE THE SPARKS
See the sparks fly by using optional titanium screws* in the underside of the rear diffuser
*Sold separately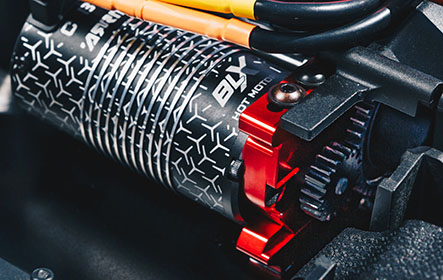 EASY DOES IT
Sliding motor mount for smooth meshing and removal with easy-access center spool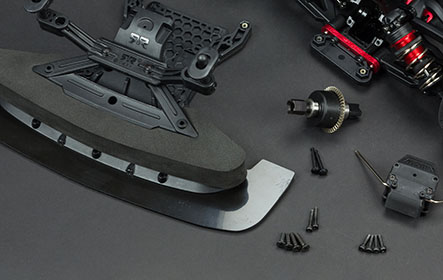 EASY-ACCESS DIFFERENTIALS
Front and rear diffs are quickly and easily accessed for rapid tuning and maintenance
HEAVY-DUTY
Tough A-arms and drivetrain components keep you bashing for longer
Firma 160 Smart ESC 2S Smart Upgrade Completion Gu
These are our suggested products to complete this product.
INFRACTION 6S BLX 3S LiPo Completion Guide
These are our suggested products to complete this product.
INFRACTION 6S BLX 2S LiPo Completion Guide
These are our suggested products to complete this product.
Product Specifications
Servos
High torque metal gear steering servo
Body
Screen printed, decaled and trimmed
Battery Tray Dimensions
7.09 x 2.17 x 2.76" (180 x 55 x 70mm)
Front Track
12.13" (308mm)
Outer Diameter
3.94 in (100mm)
Product Width
12.20" (310mm)
Product Weight
10.56 lbs (4.8kg)
Rear Track
12.01" (305mm)
Ground Clearance
0.59" (15mm)
Internal Gear Ratio
3.3:1
Product Length
27.36" (695mm)
Front Shock Spring Rate
4.7N/m
Product Height
7.87" (200mm)
Chassis
6061-T6 aluminum 0.12" (3mm) thick
Completion Level
Ready-To-Run
Differential
Three oil-filled metal gear
Rear Shock Spring Rate
6.6N/m
Shock Type
Big Bore aluminum body, oil-filled
Approximate Assembly Time
1-3 Hours
Battery
Two 2S or 3S LiPo batteries w/ IC5 or EC5 connectors (sold separately)