1/5 KRATON 4X4 8S BLX Brushless Speed Monster Truck RTR, Orange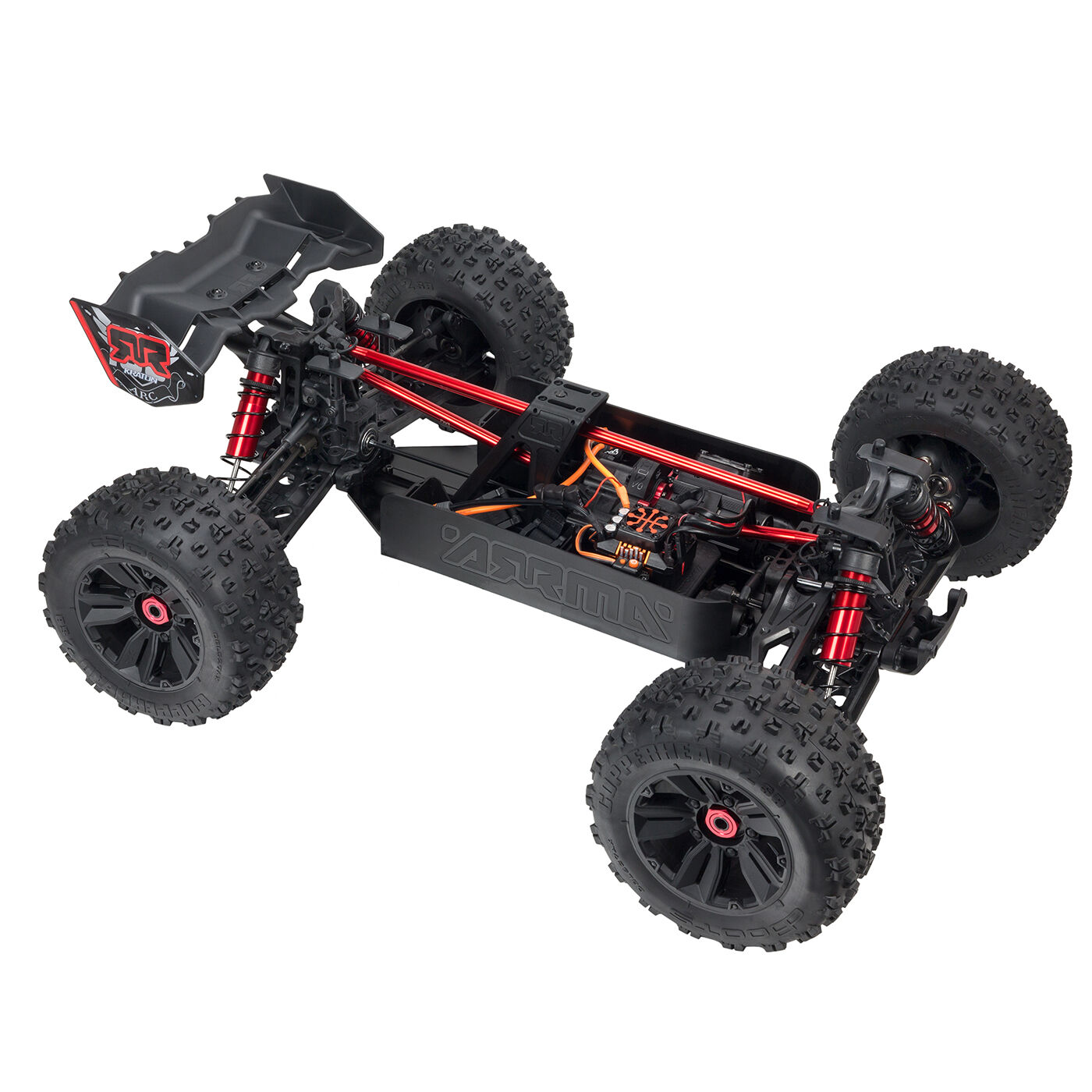 Features
Laser-etched aluminum anodized chassis plate
Strong composite chassis side pods
Triangular structured center brace system for maximum durability
Oil-filled adjustable shocks with massive 20mm bore
Ultra-thick composite front and rear shock towers
Easy-access 3-bolt sliding motor mount for quick motor removal
Aluminum motor mount and hubs
Heavy-duty drivetrain
Durable steel driveshafts throughout
Easy-access front and rear diff module design
All-metal diff outdrives and gearbox internals
Easy-access waterproof electronics module
Heavy-duty dual spring servo saver
Multi-split spoke wheels
Durable wheel hubs for increased strength
Multi-terrain dBoots® COPPERHEAD™ 2 SB tires
Ultra-tough truck body and decals
High downforce wing
Integrated internal body protection tower
Spektrum™ DX3 3-channel 2.4GHz Radio with SR6100AT AVC® Receiver
Spektrum™ Firma™ 160A Smart ESC
Spektrum™ Firma™ 1250Kv Brushless Motor
Spektrum™ S905 Metal-Geared Digital Servo
2-year limited warranty
Overview
Bigger than big and engineered for brute power and toughness, the ARRMA® 1/5 scale KRATON™ 8S BLX 4WD Speed Monster Truck takes your bashing ability to the next level. Its metal-reinforced design lets you blast up, over, and through bruising obstacles without worry. Metal shafts, turnbuckles and outdrives, plus all-metal internal gears, give the drivetrain and suspension system unstoppable strength. The anodized aluminum chassis plate features composite side pods and a triangular center brace for maximum durability. Ultra-thick composite front and rear shock towers hold massive 20mm bore, oil-filled adjustable shocks that soak-up bumps and jolts.
The power that sends the KRATON™ 8S BLX 4WD Speed Monster Truck charging easily over challenging terrain comes from its 1250Kv Spektrum™ Firma™ brushless motor. The torque and acceleration is incredible. For quick access, the motor is mounted with three bolts onto a sliding aluminum mount.
The waterproof electronics module — also designed for easy access — houses and protects more innovative Spektrum™ equipment. ARRMA® has equipped the KRATON™ 8S BLX 4WD Speed Monster Truck with a state-of-the-art Firma™ Smart 160A ESC and SR6100AT AVC® (Active Vehicle Control®) receiver. Innovative connectivity enables all the Smart electronics to send valuable telemetry data to the included Spektrum™DX3 3-channel transmitter without requiring multiple wires, sensors, modules and links. Just download the free Spektrum™ Dashboard App to your mobile device, which connects wirelessly via Bluetooth to the DX3 transmitter. Then you can view motor RPM, ESC temperature, receiver voltage, drive pack voltage and more data in real-time.
The ultra-tough KRATON™ truck body with high-downforce wing is available factory trimmed, painted and decaled in two striking color schemes. A center protection tower on the chassis interfaces with the roll cage for increased body durability. It all rides on multi-split spoke wheels with strong, durable aluminum wheel hubs, and multi-terrain dBoots® COPPERHEAD™ 2 SB tires with a tread pattern designed for extreme, all-terrain action.
Video Overview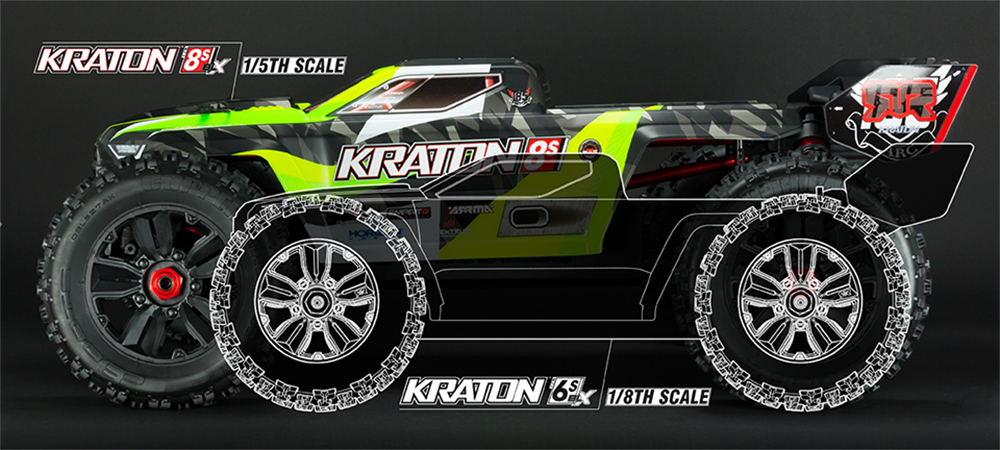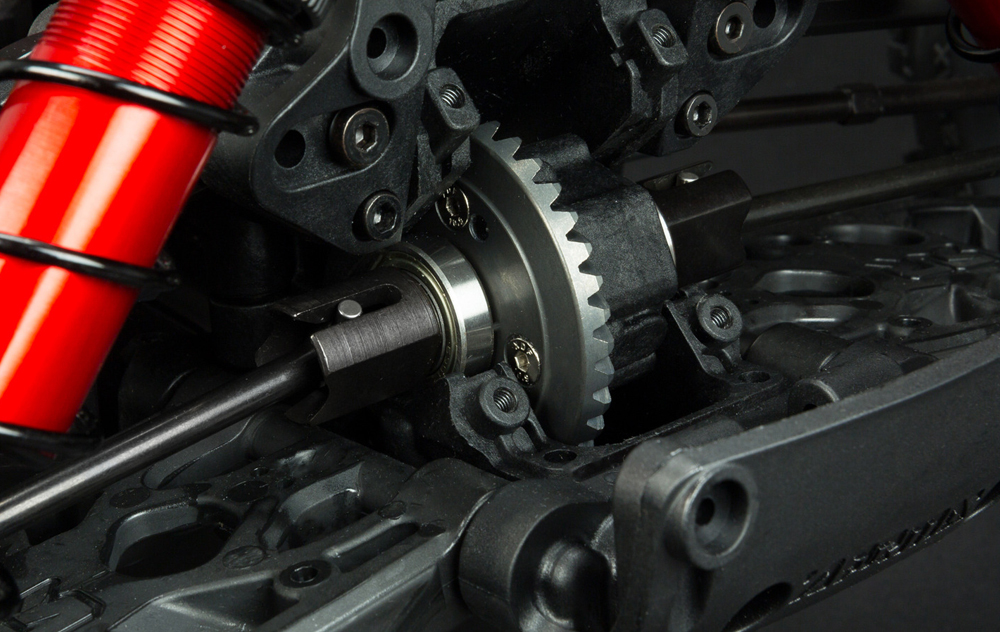 ALL-METAL DRIVETRAIN
ARRMA tough gears, diffs, outdrives and driveshafts.
FULL METAL STRONG
Suspension arm end caps, pivot balls, steering plates.
SLIDING MOTOR MOUNT
For easy meshing and quick removal.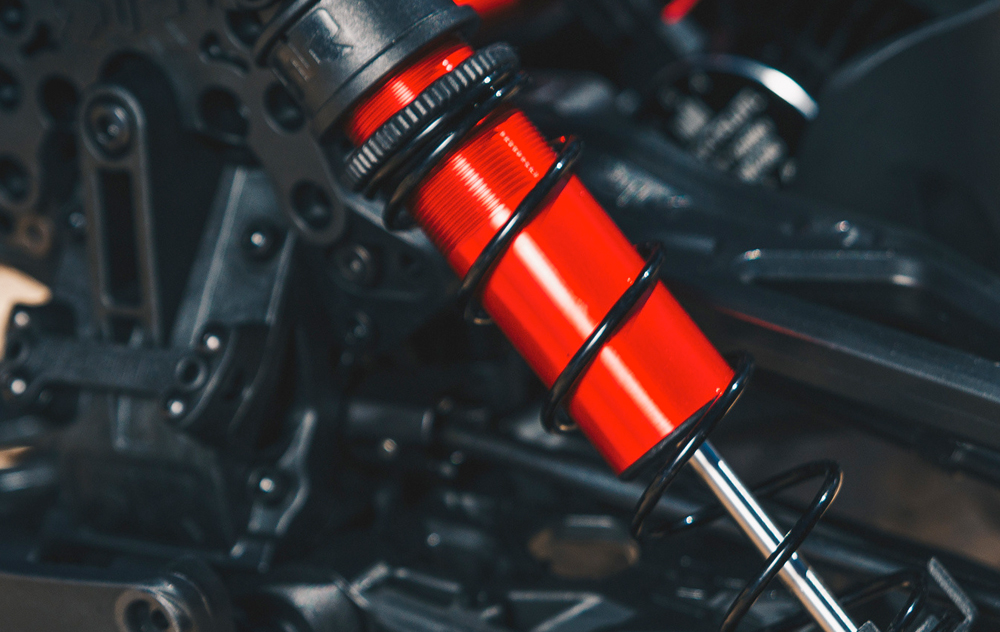 MASSIVE ALLOY SHOCKS
24mm diameter bodies.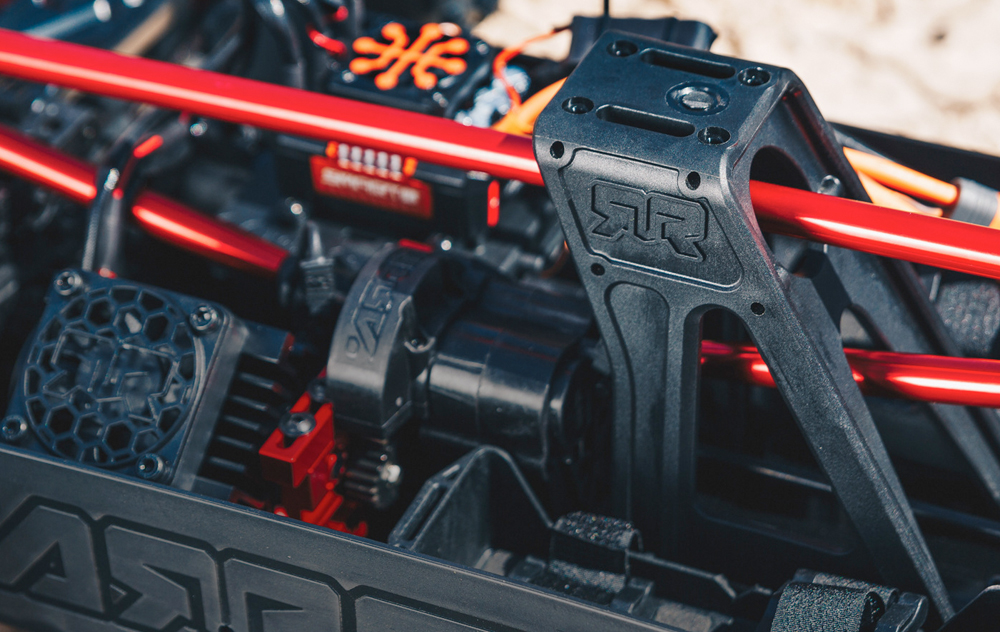 BODY PROTECTION TOWER
Interfaces with roll cage for enhanced body durability.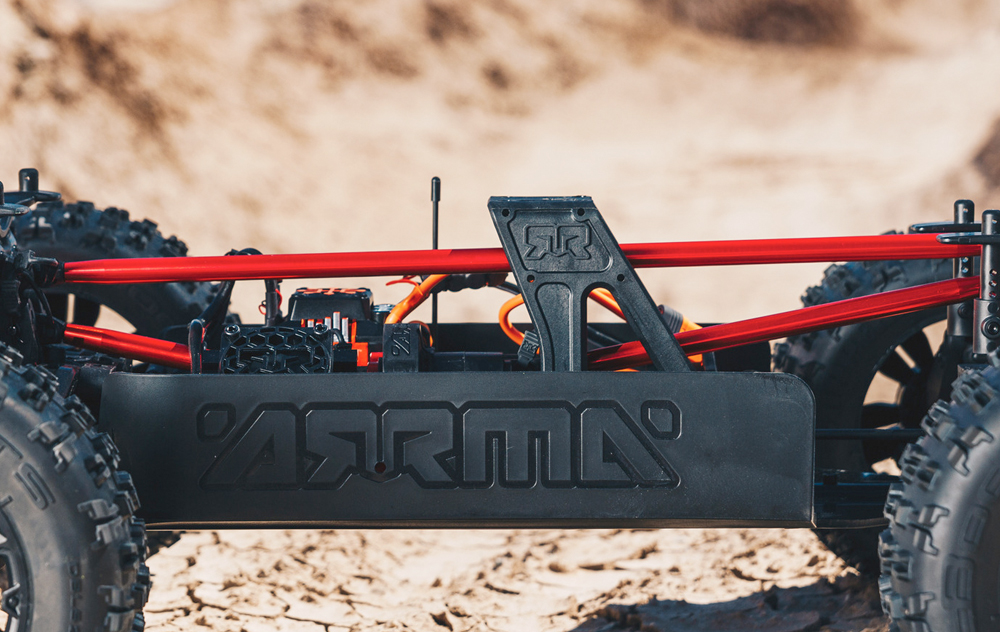 TRIPLE CENTER BRACE SYSTEM
For maximum chassis durability.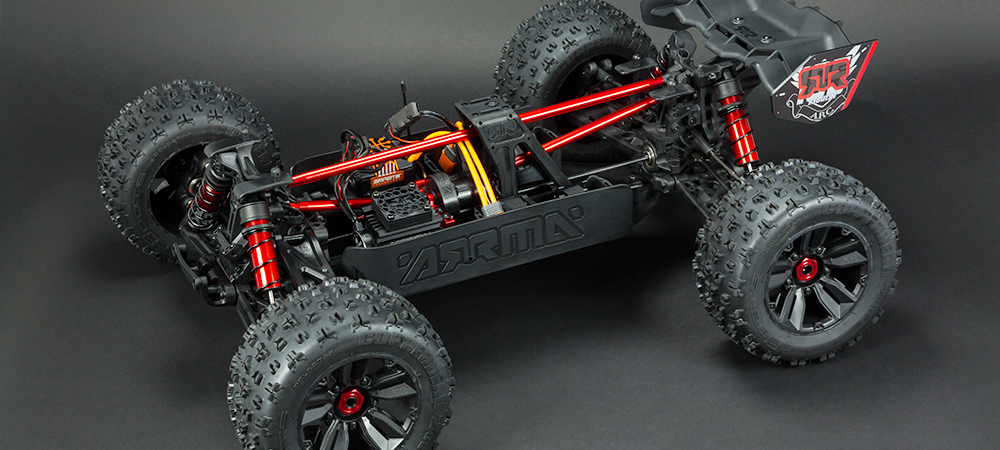 BEAUTIFULLY LASER ETCHED CHASSIS PLATE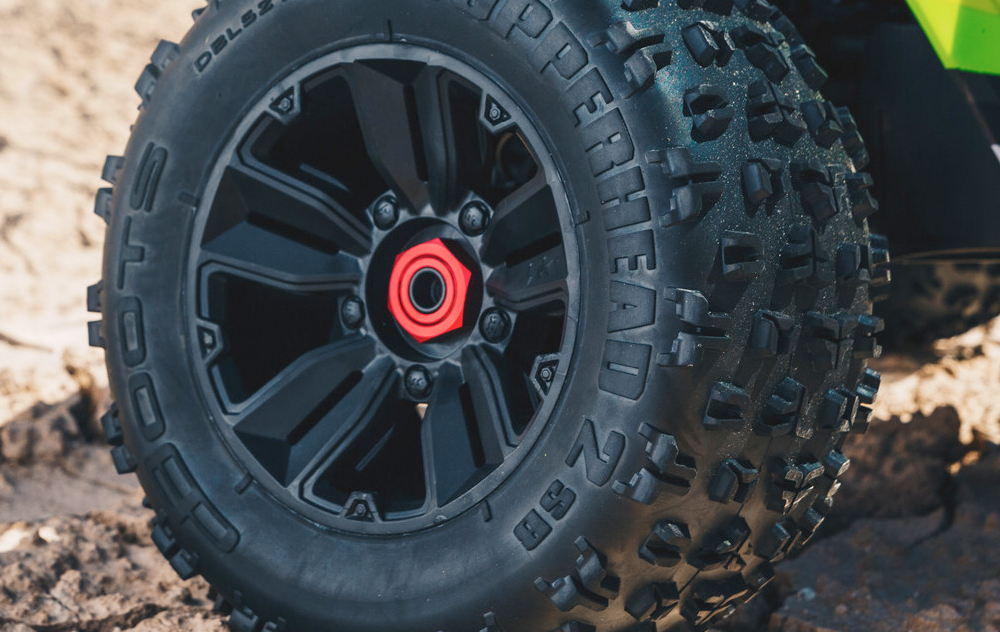 SPLIT-SPOKE WHEELS & MULTI-TERRAIN DBOOTS® COPPERHEAD 2 SB TIRES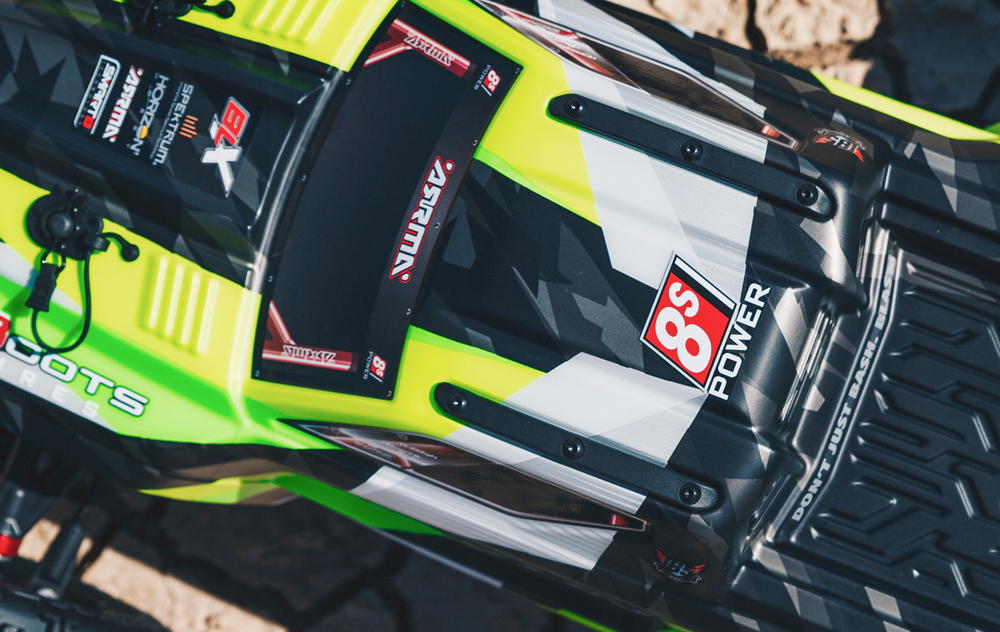 STAND OUT FROM THE REST
Punchy from a distance, tonal detailing close-up.
INTEGRATED ELECTRONICS MODULE
Combined ESC, servo and receiver module.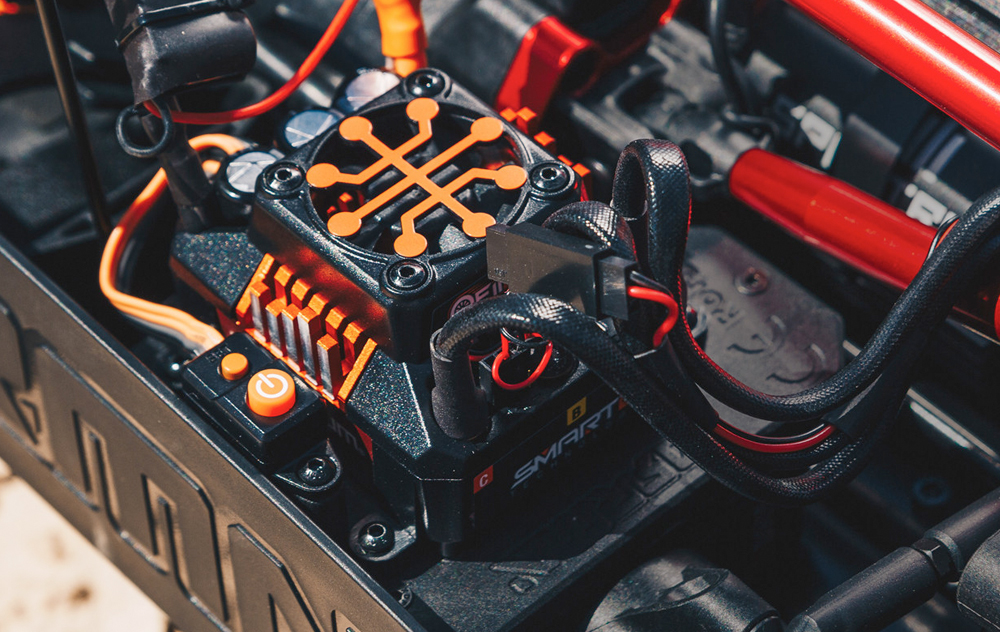 SPEKTRUM™ SMART TECHNOLOGY INCLUDED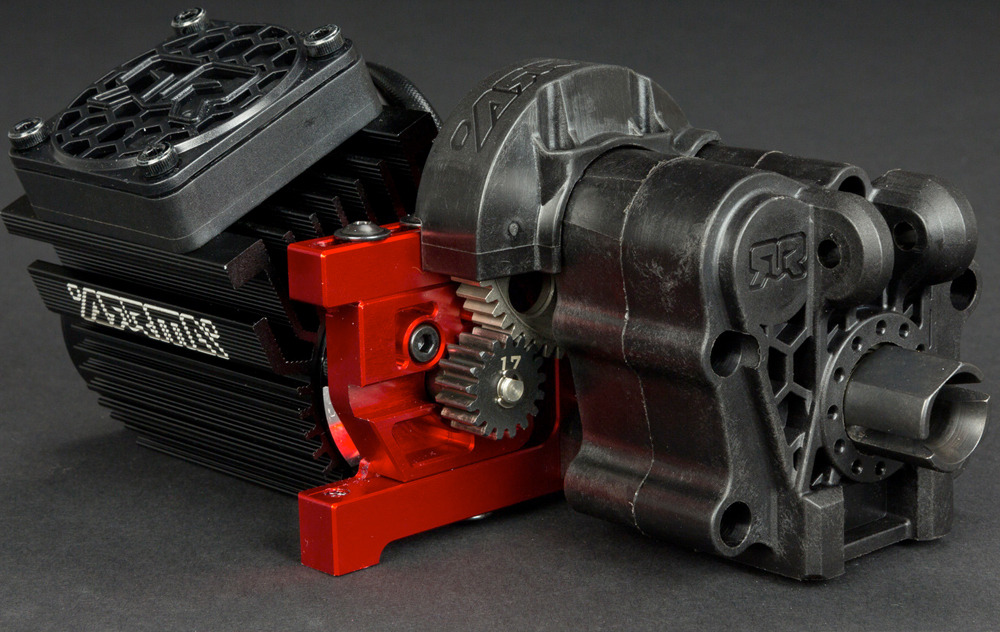 8S POWER MODULE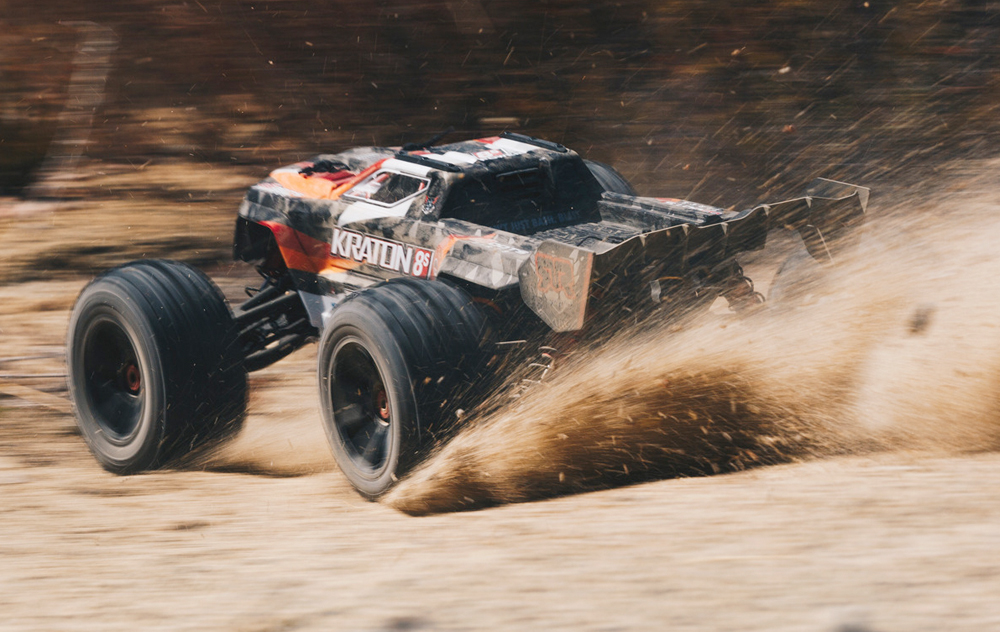 AVC® INCLUDED SPEKTRUM™ ACTIVE VEHICLE CONTROL™ SYSTEM
For some help when things get loose.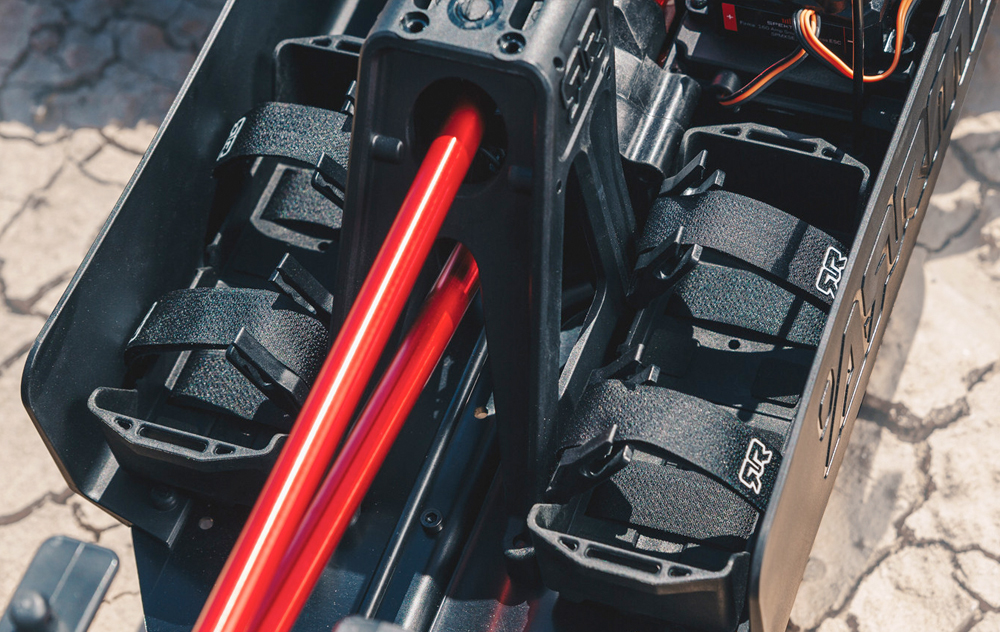 OVERSIZED BATTERY TRAYS
Accommodate a wide range of battery sizes.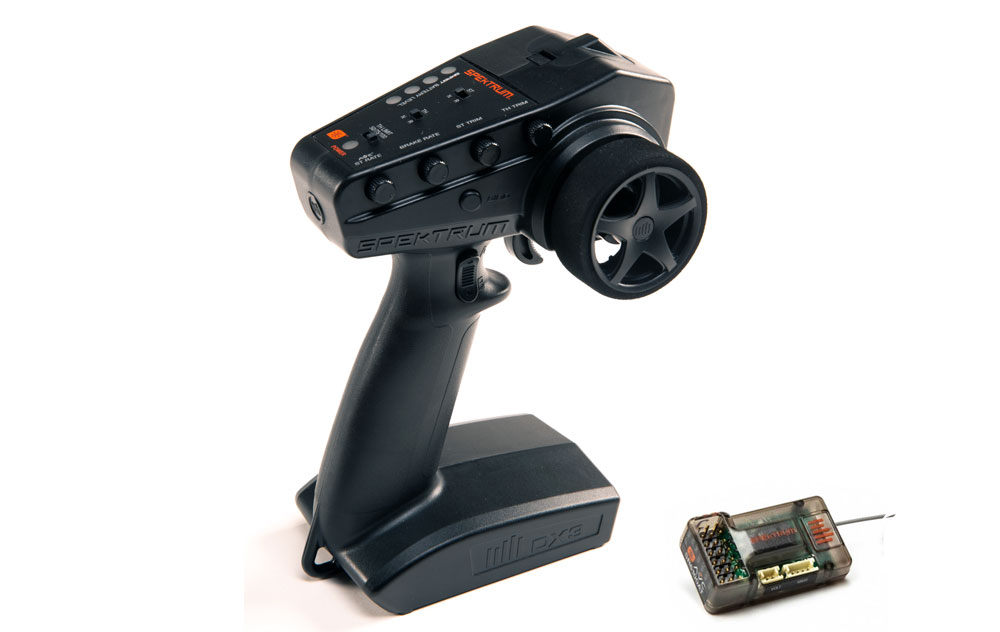 SPEKTRUM 2.4GHz DX3 3-CHANNEL RADIO & SR6100AT RECEIVER
DSMR® Technology for superior range, response and interference resistance
3-Channel operation (Steering, Throttle, AUX1)
Smart Technology ready with the included SR6100AT Receiver
New styling focused on ergonomics
Foam covered steering wheel for better control
Convenient voltage level indicator for Smart batteries
Supports the on-demand traction control of AVC® technology
Servo reversing and trim dial
3-position throttle limiter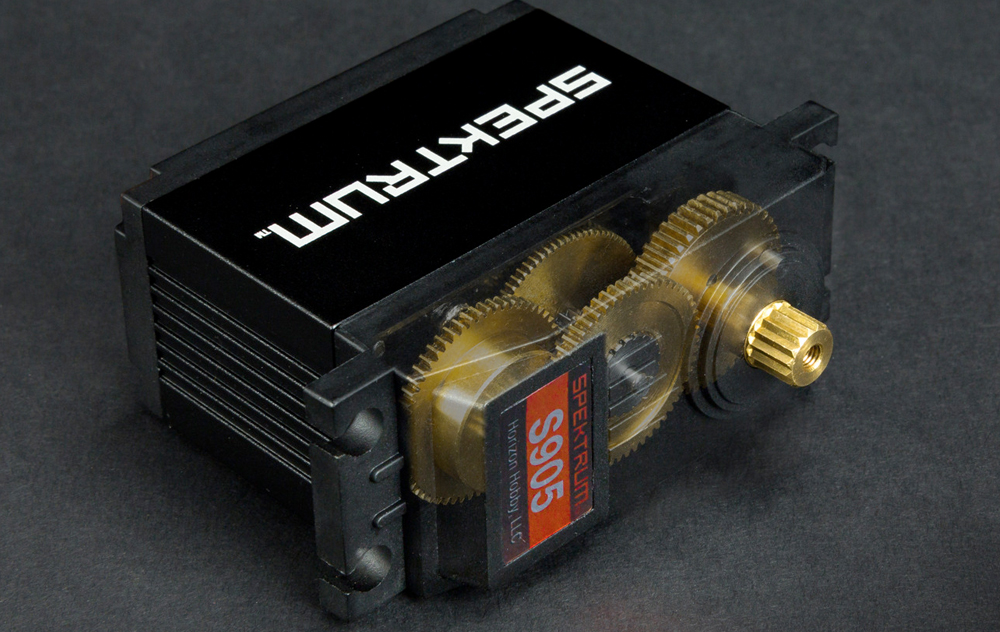 SERVO
Full-size 1/5th scale servo
Strong, metal gears used throughout
Waterproof and dustproof case
15 tooth output spline
Torque: 38kg-cm @6V
Speed: 0.20sec/60degree @6V
Dimensions: 2.36 x 1.14 x 2.17" (60 x 55 x 29mm)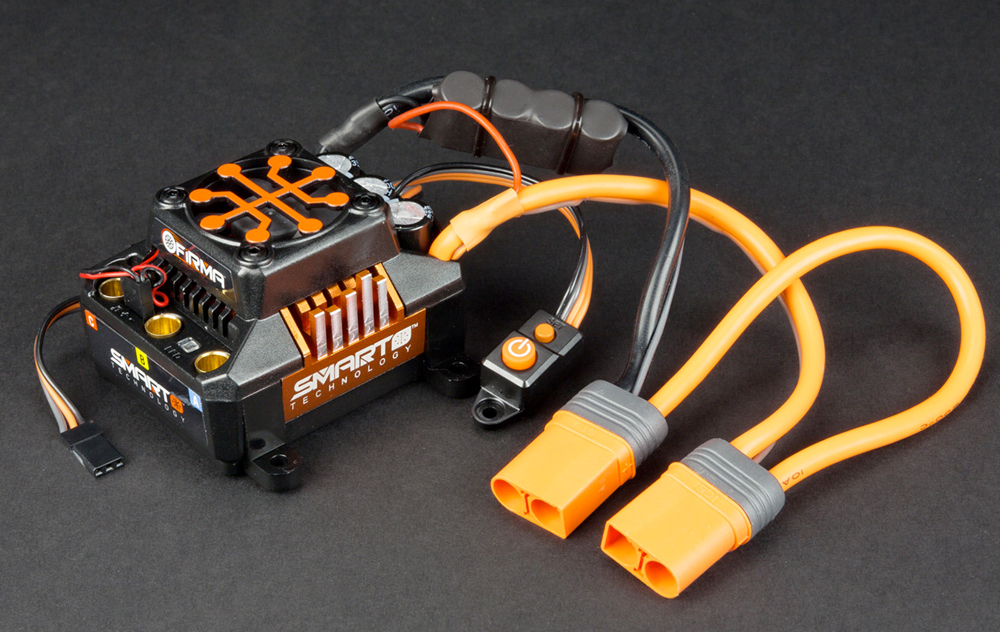 SPEKTRUM™ FIRMA™ 160 AMP BRUSHLESS SMART ESC
Waterproof and dustproof design
160A, 8S LiPo ready (3S*, 4S*, 6S* and 8S LiPo compatible)
Spektrum® Smart Technology
Fitted with reliable IC5™ connectors (EC5™ compatible)
Integrated fan for reduced heat during extreme running
High quality 10awg wires
Low voltage cut off and thermal overload protection
User programmable punch, brake, BEC, LVC sensitivity, reverse speed and motor timing settings

*3S, 4S and 6S are not recommended for the KRATON 8S BLX model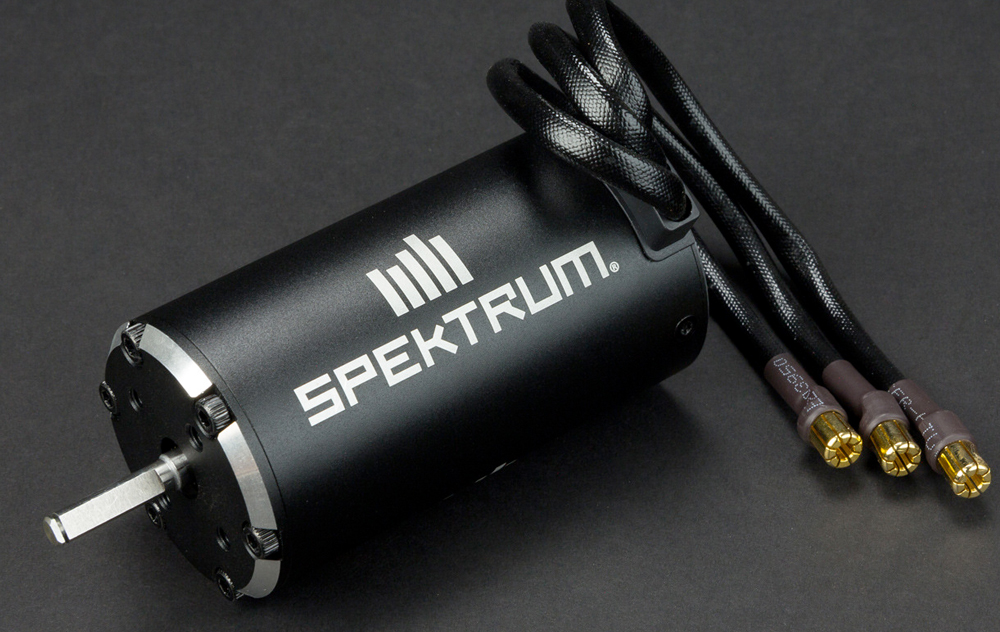 SPEKTRUM™ FIRMA™ 4685 1250Kv BRUSHLESS MOTOR
Beautifully etched aluminum can
4-pole construction for smooth and consistent power
6.5mm gold bullet connectors for reliable and efficient connection
Black anodized aluminum motor can for increased heat dissipation
Super strong 8mm shaft
Groove at the end of the motor shaft allows the installation of a pinion retaining E-Clip
Chassis Brace Upgrade
These are our suggested products to complete this product.
6S Completion Guide
These are our suggested products to complete this product.
8S Completion Guide
These are our suggested products to complete this product.
Product Specifications
Approximate Assembly Time
Less Than One Hour
Body
Painted, Decaled, And Trimmed
Drive Type
Forward/Brake/Reverse
Product Height
10.47" (266 mm)
Front Track
23.70 in (602mm)
Product Weight
24.2lbs (11kg)
Vehicle Type
Monster Truck
Shock Type
Oil-filled coil-over
Ball Bearings
Full Set, Rubber Shielded
Chassis
6061-T6 aluminum 0.16" (4mm) thick
Completion Level
Ready-To-Run
Max Battery Dimensions
7.09 x 2.16 x 2.09" (180 x 55 x 53mm)
Final Drive Ratio
25.06:1
Rear Track
23.70 in (602mm)
Wheelbase
19.33" (491 mm)
Product Length
29.92" (760 mm)