1/10 SENTON 3S BLX 4WD Brushless Short Course Truck with Spektrum RTR, Green/Black
1/10 SENTON 4WD V3 3S BLX Brushless Short Course Truck RTR, Blue
ARA4303V3T1
View Alternate Product Details

Introduction
Extreme toughness and outrageous 50+ MPH speed separate the 1/10 SENTON™ 4X4 3S BLX Short Course Truck from rest of the pack. Now command the power of its proven BLX100 brushless system with even more confidence, using the included Spektrum™ STX2® radio!
Features
Extremely durable — DESIGNED FAST, DESIGNED TOUGH!
Fast, 50+ mph speeds
Exciting short course truck realism
Spektrum™ STX2® 2.4GHz Radio System:
BLX100 Brushless System
Easy-access power module
Easy-access electronics module
Metal-geared differentials
Double wishbone front and rear suspension
Oil-filled shocks with preload spacer clips
High-speed center driveshaft support
Built-in servo saver for robust, responsive steering
Adjustable steel turnbuckles
Adjustable ride height
Adjustable body mounts
Tough multi-spoke black chrome wheels
Multi-terrain dBoots® Fortress tires
Wheelie bar
Waterproof electronics *
2-year limited warranty **

* For details on waterproof standards, please refer to the product instruction manuals

** Please see the product manual for warranty details
Needed to Complete
35C 2S or 3S 35C+ LiPo or 6 to 8 Cell NiMH Hardcase Battery with IC5™/EC5™ Connector
Suitable LiPo or NiMH Balancing Charger
(4) AA Batteries
LiPo Charging Bag (recommended)
What's in the Box?
(1) ARRMA 1/10 SENTON™ 4X4 3S BLX Short Course Truck with:

(1) Spektrum™ SRX200 2-Channel Waterproof Receiver (installed)
(1) ADS-7M Waterproof, Metal Gear Servo (installed)
(1) ARRMA BLX3660 3200Kv Brushless Motor (installed)
(1) BLX100 ESC 2S/3S with IC5™ connector (installed)

(1) Spektrum™ STX2 2.4GHz 2-Channel Transmitter
(1) Product Manual
Overview
The STX2® 2-channel radio that comes with this new version of the SENTON™ 4X4 3S BLX RTR offers many of the same features found in high-end 2.4GHz radio systems —throttle and steering reversing, throttle and steering travel adjust, throttle limiting and more. The radio system also includes an SRX200 2-channel waterproof receiver.
This sophisticated new RC system launches you into terrain-commanding short course excitement, with tough components, awesome 3S BLX power, and high-quality ARRMA® engineering letting you conquer anything that stands in your path. Precision aluminum, tough steel and composite materials all combine to make the SENTON™ 4X4 3S BLX a short course vehicle that's ready for hard-hitting action, right out of the box.
Ingeniously designed power, electronics, and differential modules are simple to access and can be removed from the vehicle quickly for maintenance. They make sure you spend more time bashing and as little as possible in the workshop. The main differential gears have been super-sized with large pitch gears to withstand huge torque. The differential internals feature full-metal straight-cut gears for equally trouble-free operation.
Independent double wishbone suspension and coil-over oil shocks handle everything from fast speed runs to snow and mud chucking. No matter where you choose to bash, you'll remain stable and in control. The shocks are effortless to maintain, yet offer all the performance needed for amazing all-terrain handling.
High-quality dBoots® FORTRESS SC tires on multi-spoke black chrome finish wheels give the SENTON™ 4X4 3S BLX superb bite on a multitude of surfaces. You can tackle any track with confidence. The aggressively styled short course truck body — available in green or orange — looks great in action and even better up-close, where the attention to detail on the decal and body aesthetics really shines.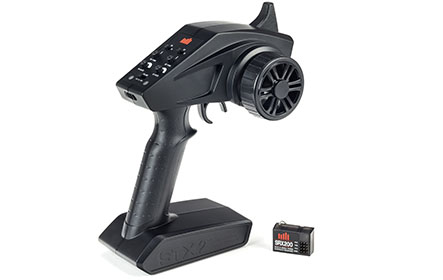 Spektrum™ STX2® 2.4GHz Radio System
2-Channel SRX200 waterproof receiver
Built-in 3-position throttle limiter
Extended range and interference-free performance
Throttle/steering reversing
Throttle/steering travel adjust
Throttle limiting
ADS-7M waterproof, metal gear servo

Max. Servo Torque @6V: 84 oz-in (6 kg-cm)
Max. Servo Speed @6V: 0.14 s
BLX100 Brushless System
BLX3660 3200Kv brushless motor
BLX100 ESC 2S/3S with IC5™ connector (EC5™ compatible)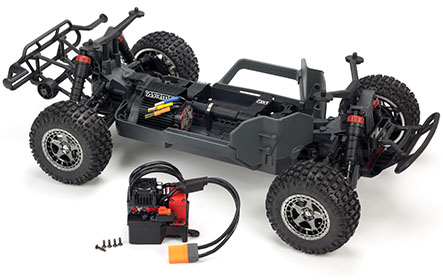 Easy-access Power Module
Detaches from chassis as a complete unit by removing one screw
Contains motor, motor plate, slipper clutch assembly and gear cover
Easy-access Electronics Module
Two-piece molding screwed to the chassis contains a waterproof receiver box, servo mount, and ESC tray
Receiver mounts inside sealed module for protection from dirt and moisture
ESC screws to the top for easy maintenance and switch access
Servo mounts on the side for quick servicing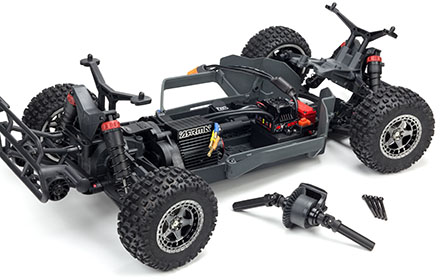 Metal-geared Differentials
Large pitch gears engineered to handle BLX brushless power
Internal metal gears chosen for extreme bashing, longevity and reliability
Easy-access front and rear diff module removal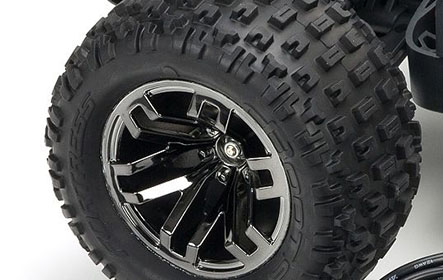 dBoots® FORTRESS SC Multi-terrain Tires
High quality dBoots FORTRESS SC tires coupled with multi-spoke black chrome finish wheels offer superb bite on a multitude of surfaces.
1/10 SENTON 3S BLX Short Course, 2S LiPo Completio
These are our suggested products to complete this product.
Product Specifications
Vehicle Type
Short Course Truck
Ball Bearings
Transmission
Completion Level
Ready-To-Run
Front Shock Spring Rate
82gf/mm
Approximate Assembly Time
Less than 1 Hour
Servos
ADS-7M waterproof metal gear high torque steering servo
Battery Tray Dimensions
5.5 x 2 x 1.9" (140 x 51 x 48mm) with battery mounting blocks in place
Outer Diameter
4.33 in (110mm)
Differential
Oil-filled, metal gears
Max Battery Dimensions
6.50 x 2 x 1.9" (165 x 51 x 48mm) with battery mounting blocks removed
Rear Shock Spring Rate
62gf/mm
Ground Clearance
1.26" (32mm)
Internal Gear Ratio
2.85:1