1/10 GRANITE MEGA 550 Brushed 4WD Monster Truck RTR
Regional Variations
ⓘ
:
ARA102714I
1/10 GRANITE 4WD V3 MEGA 550 Brushed Monster Truck RTR
ARA4202V3
View Alternate Product Details
Introduction
Fast and fully equipped, the 2S LiPo-compatible GRANITE™ 4X4 MEGA RTR arrives ready-to-bash in all terrain. Its MEGA 12T 550 brushed motor gives you the muscle to reach maximum speeds. Waterproof* electronics make it ready-to-run in any type of weather. dBoots® Fortress tires supply the traction to take on any surface. The included Spektrum™ STX2® radio with SRX200 receiver offers many of the same features found in high-end 2.4GHz radio systems — throttle and servo reversing, throttle and steering travel adjust, throttle limiting and more — for the ultimate control. Precision aluminum, super-tough steel and composite materials are all combined in an easy-to-maintain vehicle design that is built for action, straight from the box. Your GRANITE™ 4X4 MEGA Monster Truck will launch you straight into dirt-blasting, rock-crushing fun. Just add four AA batteries and get bashing!
*Note: For details on waterproof standards, refer to the instruction manual.
Features
Spektrum™ STX2® 2.4GHz radio
2-Channel SRX200 waterproof* receiver
Built-in 3-position throttle limiter
Extended range and interference-free performance
Throttle/steering reversing
Throttle/steering travel adjust
Throttle limiting
ADS-5 waterproof* 5kg-cm servo (70 oz-inch @ 6V)
MEGA 12T Brushed 550 motor
MEGA waterproof* ESC
IC3™ connectors (EC3™ compatible)
Easy-access power module
Easy-access electronics module
Easy-access diff module removal front and rear
Oil-filled shocks
Super-smooth bearings
Super-tough metal gears
Tough multi-spoke black wheels and multi-terrain dBoots® Fortress tires
Adjustable body mounts
Adjustable ride height
Extended height dirt defenders
2400mAh 8.4V 7-cell NiMH battery
ADC-N7 7-cell NiMH wall charger
30 mph (48km/h) speed achievable in optimum driving conditions with optional gearing
Waterproof*
2-year limited warranty
*Note: For details on waterproof standards, refer to the instruction manual.
Overview
Powered by the MEGA 550 brushed motor system, the ARRMA® GRANITE™ 4X4 MEGA RTR Monster Truck is DESIGNED FAST, DESIGNED TOUGH — built for exciting bashing speeds and extreme, all-terrain durability! Its full-time 4WD transmission with front and rear differentials uses strong front, rear, and centerline telescopic driveshafts that can't be lost during heavy impacts, unlike dogbones. A simple, dependable, responsive steering assembly complements the ultra-reliable drive system and features a servo horn with built-in servo saver.
The self-bleeding, oil-filled shocks use a tried and tested, coil-over design for simple maintenance and amazing handling. Their innovative rod end has a molded-in spring perch for extra toughness. High chassis guards limit the amount of dirt and debris that can get into the chassis tub. Shock-absorbing loops keep the front and rear bumpers secured to the chassis, offering defense against heavy impacts.
The GRANITE™ 4X4 MEGA RTR Monster Truck's ingenious modular design makes chassis components easy to access for maintenance. Its power module consists of a MEGA 550 motor, motor plate, slipper clutch assembly and gear cover. The power module can be detached from the chassis, as a complete unit, by removing just one screw. With the power module removed, the slipper clutch can be reached easily for adjustments by taking out three screws that attach the gear cover. The power module design also ensures that pinion and spur gear mesh is perfect every time, using numbered holes for different pinion gear sizes.
A two-piece molding screwed to the truck's chassis serves as its electronics module, containing a waterproof radio box, servo mount, and ESC tray. The radio receiver mounts inside the radio box for protection from dirt and moisture. The ultra-compact ESC is screwed to the top of the module, allowing quick access to the on/off switch, while the servo mounts to the side. All three components can be removed together, quickly and easily.
The differential module houses each assembled differential unit in an innovative yoke design. Only eight screws need to be removed to release the front and rear yokes. The power module can then be detached, allowing you to pivot the gearbox cases for access to the differentials. Each differential gear case features large pitch gears that are engineered to withstand huge torque. Internal metal gears have been chosen for reliability during extreme bashing.
Finally, tough, multi-spoke black wheels with dBoots® Fortress tires give the GRANITE™ 4X4 MEGA RTR effective traction for bashing on almost any terrain. Multiple battery types can be used with the hook-and-loop mounting, from 6-cell NiMH packs to a 2S block pack.
What's in the Box?
(1) 1/10 GRANITE™ 4X4 MEGA 550 4WD Monster Truck with:

(1) ARRMA MEGA ESC
(1) MEGA 12T 550 Brushed Motor with IC3™ Connectors (EC3™ compatible)
(1) Spektrum™ 2.4GHz STX2® Radio and SRX200 Receiver
(1) ADS-5 Servo

(1) 2400mAh 8.4V 7-cell NiMH Battery
(1) ADC-N7 7-cell NiMH Wall Charger
(1) Product Manual
Video Overview
IC3™ CONNECTORS
The GRANITE™ 4X4 MEGA now comes with IC3™ connectors so you can take full advantage of Spektrum Smart Technology. The IC series of connectors are also designed from the ground up to provide a more solid connection, higher heat resistance, and effortless installation. For those using the popular EC3™ connectors, there's no need to worry. The IC3 connector is entirely backwards compatible.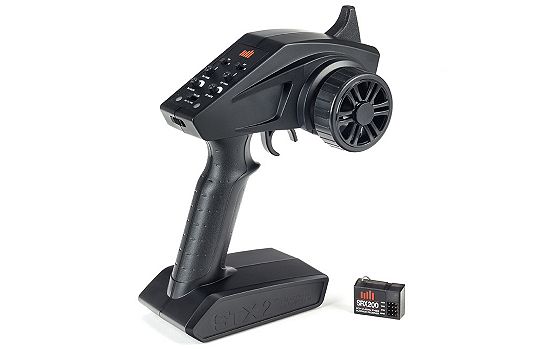 SPEKTRUM STX2® RADIO SYSTEM
Complete 2.4GHz radio system including a 2Ch waterproof receiver *
Built-in 3-position throttle limiter
Steering & throttle rate & trim adjustments with throttle and steering reversing
FHSS 2.4GHz protocol** offers extended range and interference free performance
* For details on waterproof standards, please refer to the product instruction manuals
** Not compatible with DSM, DSM2 or DSMR 2.4GHz protocol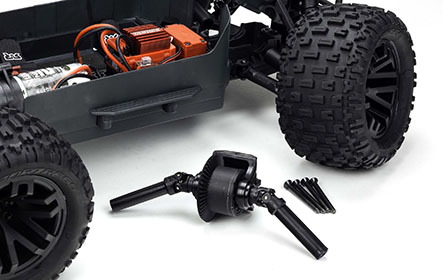 REMOVABLE DIFFERENTIAL MODULE
Both the front and rear diff modules are super-easy to access in the GRANITE 4x4 MEGA, ensuring that you spend more time bashing and less time in the workshop.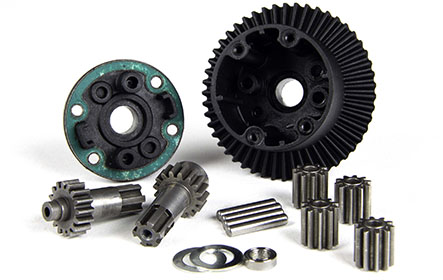 TOUGH, LARGE, LIGHTWEIGHT DIFFS
These differentials are TOUGH. The main differential gears have been super-sized with large pitch gears that have been designed to withstand huge torques, allowing lightweight composite material to be used for reduced rotating mass without compromising strength. The differential internals feature full-metal straight-cut gears, ensuring trouble-free operation.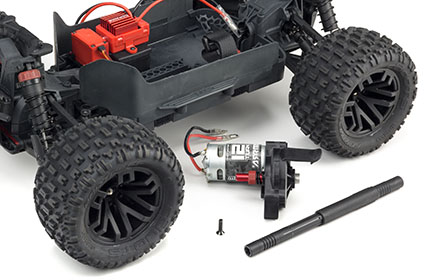 REMOVABLE POWER MODULE
Easy-access Power Module assembly can be removed from the vehicle in seconds, with the removal of just one single screw. The center shaft assembly is telescopic to assist with the easy disassembly and is sprung loaded to ensure it stays in position in use.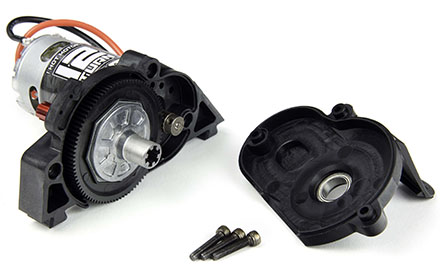 POWER SYSTEM
With the Power Module removed from the vehicle you can easily service your motor, single-pad slipper clutch, spur and pinion gears. The 4x4 MEGA power system features a high-torque 550 sized 12 turn brushed motor.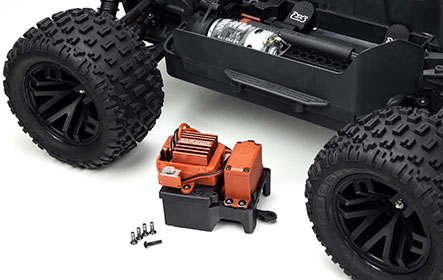 REMOVABLE ELECTRONICS MODULE
Easy-access Electronics Module assembly can be removed from the vehicle with the removal of only 5 screws. With this module removed you can access the servo, electronic speed control and the receiver. The two-piece moulding comprises of a lower box and upper lid that are sealed with high-quality rubber seals. The ESC and steering servo are attached to this moulding, while the receiver sits inside the waterproof box.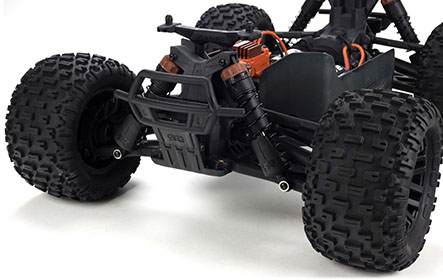 TOUGH SHOCK DESIGN
Soaking up a wide range of surfaces is made easy with the included coil-over-oil shocks. Factory set to handle everything from fast speed runs to snow and mud chucking, no matter where you choose to bash, these high-quality units will keep you stable and in-control. The shock absorbers on the GRANITE 4x4 MEGA feature keyed spring perch and self-bleed* design. These shocks are designed to be simple to maintain, yet offer all the performance required to give amazing handling.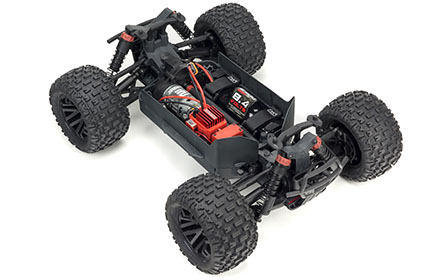 4WD DRIVETRAIN AND SLIDER DRIVESHAFTS
Featuring a full-time four-wheel drive, the GRANITE 4x4 MEGA is ready to blast through your chosen environment. Telescopic driveshafts in the front, rear and centreline transmit drive from the slipper clutch to each wheel.
FORTRESS MONSTER TRUCK TIRE DESIGN
High quality dBoots FORTRESS MT tires coupled with multi-spoke wheels offer superb bite on a multitude of surfaces.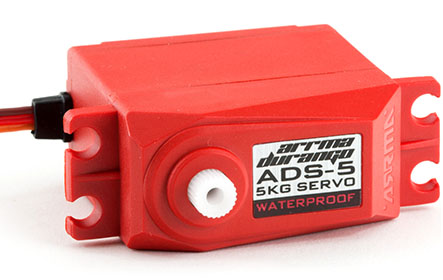 ADS-5 STEERING SERVO
The ADS-5 Steering Servo will provide fast and consistent steering response on the most demanding surfaces. This servo provides 5kg/cm (70oz/inch) of torque.A waterproof servo case will keep your ARRMA vehicle handling correctly, even when the action gets wet. With 5kg (70oz) of torque at 6v, this ADS-5 Steering Servo can reach full operating angle in just 0.12 seconds.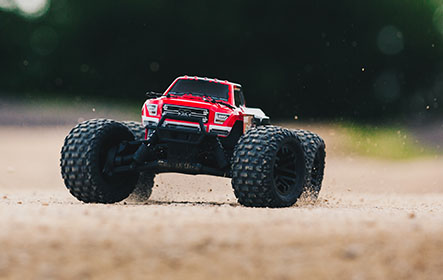 30 MPH BASHING ACTION
The GRANITE 4X4 MEGA Buggy comes Ready To Run with everything you need other than standard AA transmitter batteries. Plus, with ideal driving conditions and using the optional gearing, you can achieve speeds of 30 mph. Just power it up and get ready to bash beyond your limits!

Firma 130 Smart ESC Upgrade Guide
These are our suggested products to complete this product.
Product Specifications
Servos
One ADS-5 waterproof 70 oz-in (5 kg-cm) @ 6V, 25T spline
Approximate Assembly Time
No assembly required
Outer Diameter
5 in (127mm)
Product Width
13.5" (342mm)
Completion Level
Ready-To-Run
Front Shock Spring Rate
0.8N/mm
Product Height
7.7" (196mm)
Ground Clearance
1.85" (47mm)
Product Length
16.9" (429mm)
Suspension
Front & rear double wishbone
Differential
Full metal straight cut gears
Rear Shock Spring Rate
0.6N/mm
Shock Type
Oil-filled composite body
Wheel Type
Nylon one-piece multi-spoke, black in color
Product Weight
6.5lbs (2.9kg)
Vehicle Type
Monster Truck