1/8 TYPHON 6S BLX 4WD Brushless Buggy with Spektrum RTR, Red/Grey
1/8 TYPHON 6S V5 4X4 BLX Buggy with Spektrum Firma RTR, Black
ARA8606V5
Alternative Produktdetails ansehen

Einführung
Wahnsinnige Höchstgeschwindigkeiten von über 110 km/h sind kein Problem mit dem ARRMA® TYPHON ™ 6S BLX 4WD 1/8 Speed Buggy. Schnell, robust und mit dem 2,4 GHz Spektrum ™ STX2®-Sender ausgestattet ist das Gerät für schnelle Action unter allen Bedingungen gerüstet!
Features
Sofort fahrbereit
Extrem haltbar
Schnell, über 100km/h erreichbar
Eloxiertes Aluminium-Chassis
Stabile Front- und Heck-Chassis-Halterungen aus Kunststoff
Stabile Kunststoff-Chassis-Seitenteile
Heavy-duty Antriebsstrang
Halbachsen und Getriebe aus Metall
Haltbare Antriebswellen aus Stahl
Geführte Motorhalterung für einfachen Zugang
Zentrales Differenzial mit nur vier Schrauben ausbaubar
Gesicherte Kugelgelenke
Spielfreier roter Servo Saver aus Aluminium
Einstellbare Öldruckstoßdämpfer
Dämpferbrücken vorne und hinten aus Schwarz eloxiertem Aluminium
Stoßdämpferkappen und Protektoren aus Aluminium
Mattes Farbschema mit Kleinteilen aus Kunststoff
Hochgeschwindigkeits-Heckspoiler mit niedrigem Luftwiderstand
Verstärkte Flügelhalterungen
1:8 Buggy-Reifen mit niedrigem Luftwiderstand
Geländereifen DBoots® KATAR B
Super-haltbare Radnaben
Zentralmutter mit O-Ring
Spektrum™ 2.4GHz STX2® Sender with SRX200 Empfänger
Ergonomisches Lenkrad für präzise Kontrolle in allen Verhältnissen
Einfach einzustellende Trimmhebel für ein personalisiertes Handling
Leichtgewichtig und ergonomisch geformt für lange Bashing-Sessions
BLX4074 2050Kv Brushless-Motor
Wasserdichter BLX185 4S/6S Fahrtenregler (mit IC5™ Steckern ausgestattet, EC5™ kompatibel)*
Wasserdichtes ADS-15M 15kg-cm Metallgetriebe Servo (15 kg bei 6V)*

*Details zu Wasserdichtigkeitsstandards finden sich in den einzelnen Produkthandbüchern
Benötigtes Zubehör
(2) 2S oder 3S LiPo Akkupack mit EC5 oder IC5 Steckeroder
(1) 4S oder 6S LiPo Akkupack mit EC5 oder IC5 Stecker
(1) passendes Ladegerät
(1) feuersicheren Sack zum sicheren Laden
(4) AA Batterien für den Sender
Lieferumfang
(1) ARRMA TYPHON 6S BLX 4WD 1/8 Speed Buggy RTR
(1) Spektrum 2.4GHz STX2 Sender mit SRX200 Empfänger
(1) Bedienungsanleitung
Überblick
Für diese unglaubliche Geschwindigkeit hat ARRMA® den neuen TYPHON ™ Speed Buggy mit 6S-Brushless-Power ausrüstet. Der Brushless Motor mit 2050 kV ist mit dem BLX185-Regler gekoppelt, verfügt über IC5 ™ -Stecker und ist mit Standard-EC5 ™ -Steckern kompatibel. Die wasserdichte Elektronik ermöglicht Bashen unter jeglichen Wetterbedingungen. Benutze dazu einfach deinen bevorzugten 4S oder 6S LiPo und lass den Buggy deine Vorstellung von Geschwindigkeit beim Bashen zerschmettern, vor allem, wenn du das empfohlene, optionale Antriebsritzel einsetzt.
Die neuen, Buggy-Räder mit niedrigem Rollwiderstand sind mit superaggressiven multi-surface DBoots® KATAR B-Reifen ausgestattet. Ein neuer Heckspoiler mit niedrigem Luftwiderstand hilft, das Fahrzeug am Boden zu halten. Beides trägt zu einer sicheren Kontrolle und zu reaktionschnellem Handling bei aufregend hohen Geschwindigkeiten bei.
Der TYPHON™ 6S BLX 4WD Speed Buggy schießt über Dreck, Asphalt und Gras hinweg – auf jedem Gelände, unter allen Bedingungen. Die verstellbaren Öldruckstoßdämpfer nehmen dabei alle Schläge auf. Die Stoßdämpfer sitzen auf schwarz eloxierten Dämpferbrücken. Stoßdämpferkappen und Protektoren aus Aluminium unterstützen die superweiche Abfederung.
Um die Robustheit zu gewährleisten, die für extreme Stunts erforderlich ist, hat ARRMA® dem Speed Buggy ein bärenstarkes Chassis aus eloxiertem Aluminium spendiert. Kunststoffverstärkungen vorn und hinten sowie Kunststoff-Seitenteile machen das Fahrzeug noch robuster. Halbachsen und Getriebe aus Metall sowie robuste Antriebswellen aus Stahl tragen zu einem effizienten, hochbelastbaren Antriebsstrang bei, der auch extremen Stunts und High-Speed Bashen standhält. Ein neuer spielfreier Servo-Saver aus Aluminium und Kugelgelenke, die nicht aus der Kapsel springen können, vermitteln mehr Vertrauen, Präzision und Zuverlässigkeit.
ARRMA® reduziert mit dem durchdachten und fahrerfreundlichen Design deine Wartungszeiten auf ein Minimum. Die geführte Halterung erlaubt einen schnellen und einfachen Zugang zum Motor. Das zentrale Differenzial ist gut zugänglich und kann mit nur vier Schrauben ausgebaut werden. Um noch einen draufzusetzen wurden der coolen, stromlinienförmigen Karosserie in Schwarz und Rot Karbonfaser-Details verpasst.
Der ready-to-run TYPHON™ 6S BLX 4WD wird mit dem neuen Spektrum™ 2.4GHz STX2® Sender geliefert und hat einen SRX200 Empfänger sowie ein ADS-15M Metallgetriebe Servo bereits vorinstalliert. Alles, was du noch brauchst, sind ein 4S oder 6S LiPo Akkupack, ein passendes Ladegerät, eine LiPo-Bag zum sicheren Laden und vier AA Batterien für den Sender.
Video - TYPHON
Video - Unter der Haube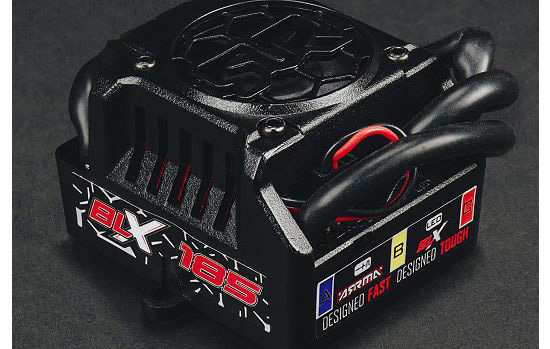 BLX185 Regler
Wasser- und staubfest *
150A, 6S LiPo ready (3S, 4S und 6S LiPo kompatibel)
IC5™ Stecker (EC5™ kompatibel)
Lüfter für maximale Kühlung
Tiefentlade- und Temperaturabschaltung
100+ km/h **
* Genaue Angaben entnehmen Sie bitte den Bedienungsanleitungen.
** Bei geeigneten Streckenbedingungen mit passendem Setup und 6S LiPo Akku
BLX4074 2050Kv BRUSHLESS MOTOR
Aluminium Gehäuse
Gold Stecker für zuverlässige Stromversorgung
Kühlrippen zur guten und ausreichenden Kühlung des Motors
5mm Welle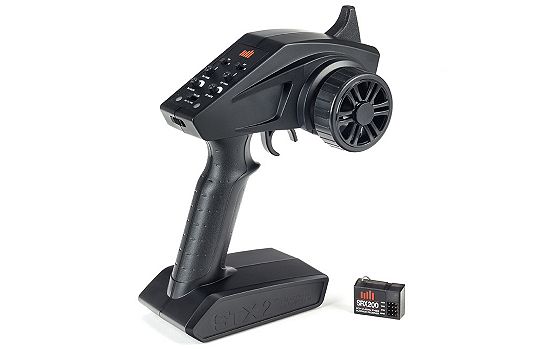 SPpektrum STX2
2.4GHz Sender inklusive wasserfestem 2-Kanal Empfänger*
3-Wege Geschwindigkeitsbegrenzer
Trimmung für Lenkung und Gas
FHSS 2.4GHz Protokoll** für mehr Reichweite und weniger Interferenzen
* Genaue Angaben entnehmen Sie bitte den Bedienungsanleitungen.
** Nicht kompatibel mit DSM, DSM2 or DSMR 2.4GHz Protokoll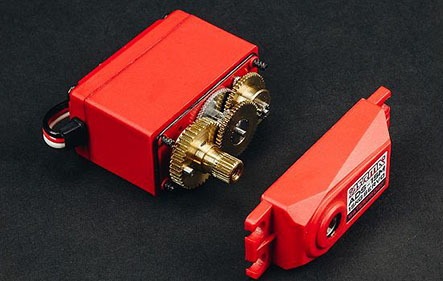 ADS-15M Servo
Metallgetriebe
Wasser- und staubfestes Gehäuse *
Stellkraft: 14kg-cm @6V
Stellzeit: 0.16sec/60° @6V
Abmessungen: 40x38x20mm (Standard Größe)
* Genaue Angaben entnehmen Sie bitte den Bedienungsanleitungen.
Firma 150 Smart ESC Upgrade Completion Guide
These are our suggested products to complete this product.
Produkt Eigenschaften
Differential
Three, metal gear, front & rear filled with 7,000cst silicone diff oil, center filled with 100,000cst silicone diff oil
Max Battery Dimensions
6.22 x 2.76 x 1.89" (158 x 70 x 49mm)
Shock Type
Oil-filled, coil-over springs, filled with 550cst silicone shock oil
Wheel Type
Plastic, black in color
Ball Bearings
Full ball bearing drivetrain
Chassis
0.12" (3mm) thick 6061-T6 aluminum
Completion Level
Ready-To-Run
Product Height
7.48" (190mm)
Approximate Assembly Time
No assembly required
Body
Trimmed and painted molded polycarbonate
Ground Clearance
1.85" (47mm)
Internal Gear Ratio
3.3:1
Motor Size
4074, 2050Kv with new sliding mount for easier maintenance
Product Length
20.08" (510mm)
Wheel Width
Rear, 1.6" (41mm)
Product Weight
7.52lbs (3.42kg)
Outer Diameter
4.65 in (118mm)
Product Width
12.2" (310mm)
Final Drive Ratio
11.79:1