1/8 TYPHON 3S BLX 4WD Brushless Buggy with Spektrum RTR, Red
1/8 TYPHON 4WD V3 3S BLX Brushless Buggy RTR, Red
ARA4306V3
Alternative Produktdetails ansehen
Einführung
Mit dem Vorgänger des TYPHON™ 4X4 BLX RTR Speed Buggy brachte ARRMA die bewährte Mischung aus brachialer Power, Style und Robustheit in die 3S Klasse. Mit der nun beiliegenden Spektrum™ STX2 gelingt dir der Einstieg in das 1/8er Bashing und das Handling bei bis zu 80 km/h jetzt noch einfacherer!
Features
Extrem stabil — DESIGNED FAST, DESIGNED TOUGH!
80+km/h Spitzengeschwindigkeit
Der ideale Einstieg in die "Buggy Basher Klasse"
Spektrum™ STX2® 2.4GHz Fernsteuersystem
BLX100 Brushless System
Einfach zugängliches Antriebsmodul
Einfach zugängliches Elektronikmodul
Metall-Differentiale
Double wishbone front and rear suspension
Oil-filled shocks with adjustable links
High-speed center driveshaft support
Built-in servo saver for robust, responsive steering
Adjustable turnbuckles
Adjustable ride height
Adjustable body mounts
Tough multi-spoke wheels
Multi-terrain DBoots® 2-HQ tires
17mm red-anodized aluminum hexes
Durable composite C-hubs
Accepts standard 1/8 scale buggy wheels and tires
Metallic-look body with forged composite detail
High-downforce wing
Realistic decals
Waterproof electronics *

* For details on waterproof standards, please refer to the product instruction manuals
Benötigt Wird
(1) 6- bis 8S NiMH, 2 oder 3S LiPo Hardcase mit IC5™/EC5™ Stecker
(1) Kompatibles LiPo Ladegeraet
(4) AA Batterien
(1) LiPo-Bag (zum Laden empfohlen)
Lieferumfang
(1) ARRMA 1/8 TYPHON™ 4X4 BLX RTR Speed Buggy mit:

(1) Spektrum™ wasserfester 2-Kanal SRX200 Empfaenger (fertig verbaut)
(1) ADS-7M wasserdichtes, Metallgetriebe Servo (fertig verbaut)
(1) ARRMA BLX3660 3200Kv Brushless Motor (fertig verbaut)
(1) BLX100 ESC 2S/3S mit IC5™ Verbinder (fertig verbaut)

(1) Spektrum™ STX2 2.4GHz 2-Channel Transmitter
(1) Bedienungsanleitung
Überblick
Die neue Spektrum STX2 2,4-GHz-2-Kanal Fernsteuerung bietet Dir viele Funktionen, die sonst nur in High-End-2,4-GHz-Funksystemen zu finden sind, einschließlich Gas- und Lenkumkehr, Gas- und Lenkwegeinstellung und Gaslimitierung. Abgerundet mit dem Wasserdichten 2-Kanal-Empfänger Spektrum SRX200, bist Du für alle Abenteuer gerüstet!
Angeschoben wird der TYPHON 4X4 3S BLX von dem bürstenlosen BLX100. Unglaubliches Drehmoment, Beschleunigung und Geschwindigkeit sind hier Programm. Das 3S LiPo-fähige Setup hat schon in der Vorversion bewiesen, die Power und Robustheit seines bürstenlosen 3200-kV-Motors und 100-A-ESC perfekt zu handlen, der neue IC5 ™ -Anschluss (EC5 ™ -kompatibel) macht die Stromversorgung nun noch smarter. Das Getriebe und das Fahrwerk sind robust konstruiert, um die Leistung der Elektronik voll auszuschöpfen - in der Tradition von ARRMA, DESIGNED FAST, DESIGNED TOUGH.
Der niedrige Schwerpunkt mit breitem Radstand und schmalen Buggy-Rädern und -Reifen sorgt für perfektes Handling auf jedem Terrain – ganz egal ob Rennstrecke, Trail, Sandkuhle oder Skatepark. Das Metallic-Finish des TYPHON 4X4 3S BLX und die geschmiedeten Kompositdetails stehen der Performance dieses Speed Buggys in nichts nach!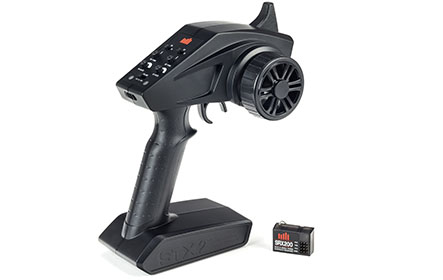 Spektrum™ STX2® 2.4GHz Fernsteuersystem
wasserfester 2-Kanal SRX200 Empfänger
Eingebauter 3 Positionen Gaswegbegrenzer
verbesserte Reichweite und störungsfreie Performance
Gas- und Lenkweg Umkehr
Gas- und Lenkweg Einstellung
Gaswegbegrenzer
ADS-7M wasserdichtes, Metallgetriebe Servo

Max. Servo Stellkraft @6V: 6 kg-cm
Max. Servo Geschwindigkeit @6V: 0.14 s
BLX100 Brushless System
BLX3660 3200Kv brushless Motor
BLX100 ESC 2S/3S mit IC5™ Verbinder (EC5™ kompatibel)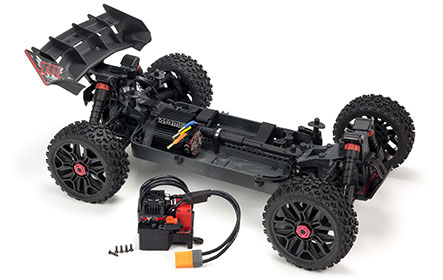 Einfach zugängliches Antriebsmodul
Durch das Entfernen einer Schraube als komplette Einheit vom Chassis trennbar
Enthält Motor, Motorhalter, Rutschkupplung und Getriebeabdeckung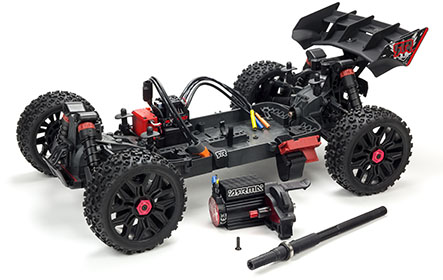 Einfach zugängliches Elektronikmodul
Auf dem Chassis verschraubtes, zweiteiliges Formteil trägt die wasserdichte Empfängerbox, den Servohalter und das ESC-Fach
Der Empfänger ist in einem geschlossenen Modul verbaut und vor Schmutz und Feuchtigkeit geschützt
DerFahrtenregler (ESC) ist auf der Oberseite montiert um guten Zugang zum Schalter und für die Wartung zu ermöglichen
Das Servo ist seitlich für schnelle Wartung montiert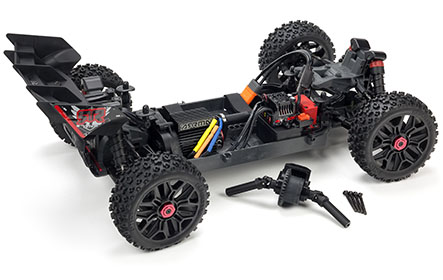 Metall-Differentiale
Niedrig Verzahnte Zahnräder entwickelt, um die brushless Power zu bändigen
Interne Zahnräder aus Metall für extremes Bashing, Langlebigkeit und Zuverlässigkeit
Vorderes und hinteres Diff-Modul leicht demontierbar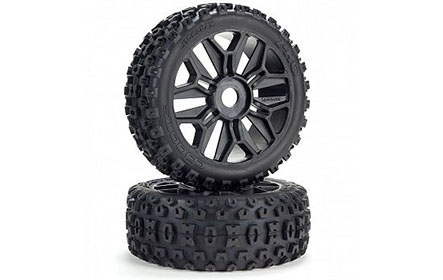 Multi-terrain-dBoots® 2-HQ-Reifen
Schwarze Mehrspeichenräder und 2-HQ-Geländereifen für hervorragende Traktion und Kurvenfahrt, wo immer Sie auch unterwegs sind.
Produkt Eigenschaften
Ladegerät
Separat erhältlich
Fertigstellungsgrad
Ready-To-Run
Material Buchse
Kunststoff