1/7 MOJAVE 4WD EXtreme Bash Roller Desert Truck
Übersicht
Erlebe die Geschwindigkeit und Robustheit des ARRMA® Bashings im großen Stil mit dem 6S fähigen MOJAVE™ EXtreme Bash Desert Truck 4WD Roller im Maßstab 1:7. ARRMA® hat das Chassis dort zusätzlich verstärkt, wo es wirklich zählt. Damit wurde es zur perfekten Plattform für High-Speed-Bashing, egal ob Du durch Sanddünen bretterst oder über Bürgersteige aus Beton und Teer jagst. Das Chassis ist komplett vormontiert und für die Elektronik Deiner Wahl vorbereitet.
Das bärenstarke eloxierte Aluminium-Chassis wurde mit Aluminiumstreben vorne und hinten zusätzlich verstärkt und eine weitere Stütze zwischen den Dämpferbrücken gibt ihm eine maximale Widerstandsfähigkeit. Bumper und seitliche Bügel bieten zusätzlichen Schutz gegen Schläge von allen Seiten. Dank einer Einzelradaufhängung mit Öldruckstoßdämpfer liefert der Truck selbst über unwirtlichste Strecken und Wege eine überzeugende Leistung.
Der Antriebsstrang ist ein Meisterwerk des Heavy-Duty-Designs, mit Antriebswellen aus Stahl, sowie Getriebe und Halbachsen aus Metall. Die Liste der EXB EXtreme Bash Komponenten im MOJAVE™ EXtreme Bash Desert Truck 4WD Roller ist lang und beinhaltet die unten angeführten Komponenten und noch einige mehr, um dieser großen Maschine die kompromisslose Zähigkeit zu geben, die Du von ARRMA® erwartest:
EXB eloxierte Aluminium Servohalterung
EXB Großvolumige wasserdichte Empfängerbox
EXB Heavy-Duty Stahl Turnbuckles
EXB beschichtetes limited-slip Differential
EXB Heavy-Duty Scharnierstifte aus Stahl vorne oben
Belüftete, multi-terrain dBoots® FORTRESS™ Reifen auf Multi-Split-Mehrspeichenfelgen geben Deinem MOJAVE™ EXtreme Bash Desert Truck 4WD Roller den Grip den er braucht um auf, über oder durch jedes Hindernis zu fahren, dass sich Dir entgegenstellt. Dabei hat er nicht nur die Leistung eines Siegers, der Truck sieht mit dem exklusiven EXB matt/glänzend Finish seiner Desert-Truck Karosserie, dem farblich abgestimmten Überrollkäfig und Dach Reling sowie dem detaillierten Cockpit auch wie einer aus!
Funktionen
7075 T6 Aluminium lasergeätzte Chassisplatte
Eloxierte Aluminium Chassis-Streben vorne und hinten
Mittelstrebe für maximale Haltbarkeit
Hanger und Platte oben aus Aluminium
EXB Servo Halterung aus eloxiertem Aluminium
EXB Großvolumige Wasserdichte* Empfängerbox
Starke Chassis Seitenteile aus Kunststoff
Heavy-Duty Aufhängungsarme vorne und hinten mit Aluminium-Verstärkungskappe
Einzelradaufhängung für überlegenes Handling
Hintere Aufhängungsbefestigung aus Stahl
EXB Heavy Duty Stahlgestänge
EXB Heavy-Duty Scharnierstifte aus Stahl vorne oben
Ölgefüllte verstellbare Stoßdämpfer
Eloxierte 7075 T6 Aluminium-Dämpferbrücken vorne und hinten
Heavy Duty Antriebsstrang
Langlebige Stahlantriebswellen
Ganzmetall-Diff-Halbachsen und Getriebe
Limited-slip Differentiale vorne und in der Mitte
SAFE-D Eingangsgetriebe
EXB beschichtetes limited-slip Differential
Exklusive EXB Matt- und Glanzeffekt Karosserie
Realistische Cockpit-Details und ultra-detaillierte Abziehbilder
Zentraler Überrollbügel verbindet sich mit dem Überroll-Käfig für besseren Karosserieschutz
Trittrohre für verbesserten Karosserie- und Seitenaufprallschutz
Realistische Bumper vorne und hinten
Flexibler Frontbumper Überhang
Super-robuste Radnaben für erhöhte Festigkeit
Farblich abgestimmte Mehrspeichenfelgen
Multi-terrain belüftete dBoots® FORTRESS™ Reifen
* Details zu Wasserdichtigkeitsnormen findest Du in der Bedienungsanleitung
Video Overview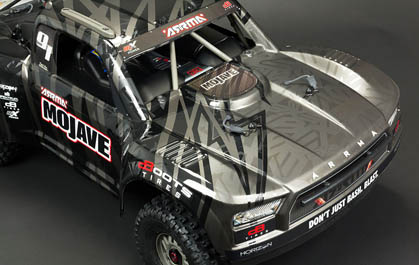 EXCLUSIVE EXB MATTE & GLOSS EFFECT BODY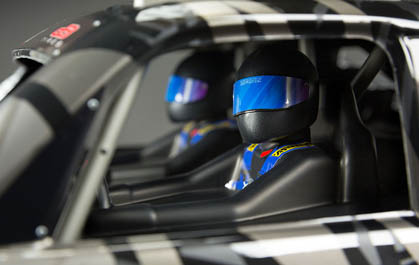 REALISTIC DETAIL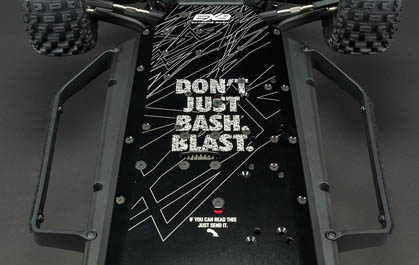 ETCHED TO PERFECTION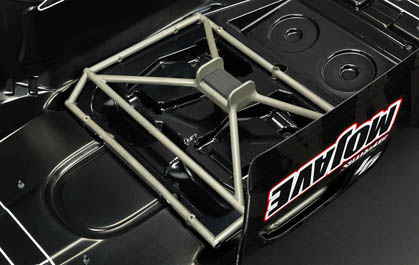 ALL-IN-ONE INTEGRATED ROLL CAGE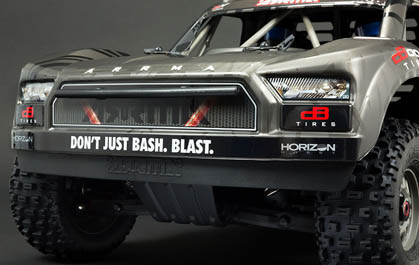 FRONT BODY PROTECTION BAR & RUBBER VALENCE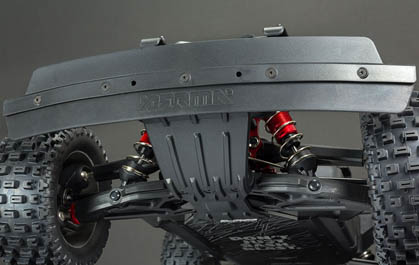 WIDE FRONT BUMPER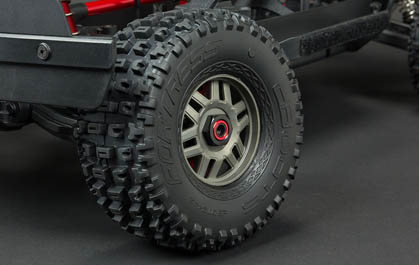 COLOR COORDINATED MULTI-SPOKE WHEELS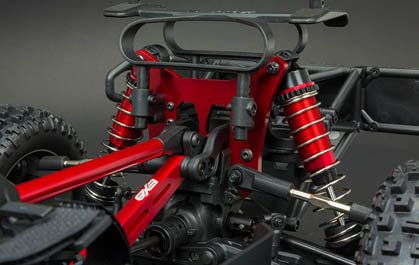 EXB 7075 T5 ALUMINUM SHOCK TOWERS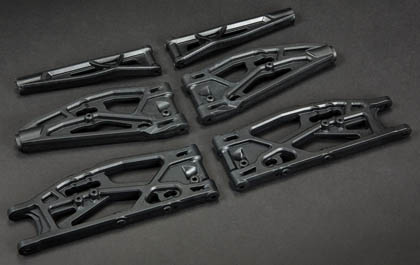 HEAVY-DUTY FRONT & REAR ARMS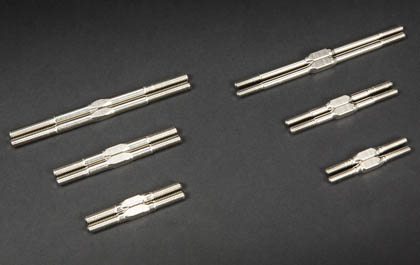 EXB HEAVY-DUTY STEEL TURNBUCKLES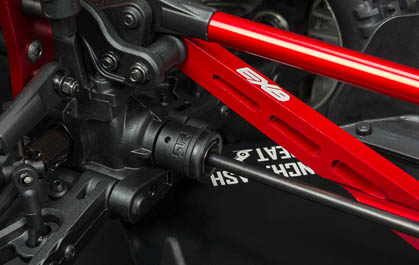 SAFE-D FIRST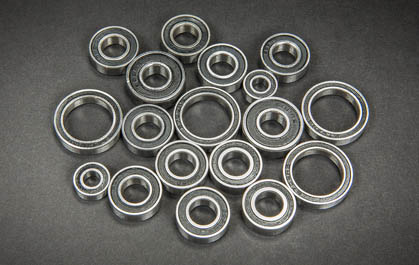 RUBBER SHIELDED BEARINGS THROUGHOUT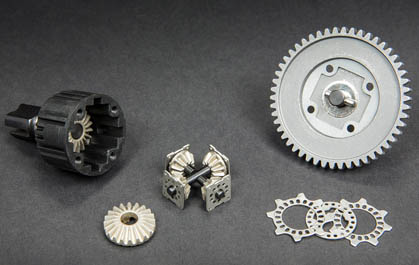 EXB PLATED LIMITED SLIP DIFFERENTIAL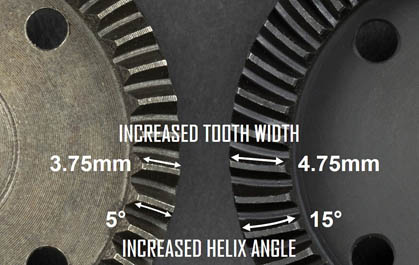 WIDER TOOTH PROFILE = STRONGER GEARS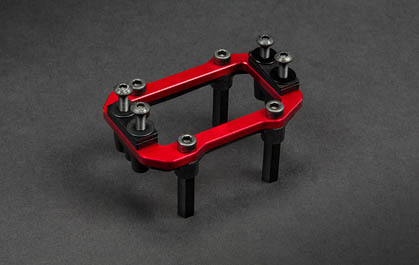 EXB ANODIZED ALUMINUM SERVO MOUNT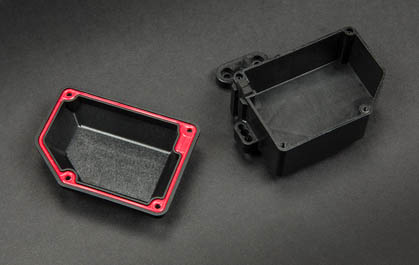 LARGE VOLUME WATERPROOF RECEIVER BOX
4S Completion Guide
These are our suggested products to complete this product.
6S Completion Guide
These are our suggested products to complete this product.
Produkt Eigenschaften
Ball Bearings
Transmission, rubber shielded
Chassis
0.12" (3mm) CNC aluminum plate
Drive Type
Forward/Brake/Reverse
Front Shock Spring Rate
1.35N/mm
Product Height
10.59" (269 mm)
Ground Clearance
1.85" (47mm)
Product Length
28.15" (715 mm)
Approximate Assembly Time
1 - 3 hours
Body
Painted, decaled and trimmed
Brakes
Integral with ESC (ESC sold separately)
Vehicle Type
Short Course Truck
Final Drive Ratio
9.77 - 17.92
Speed Control
Sold Separately
Wheelbase
16.54" (420 mm)
Product Width
13.98" (355 mm)
Max Battery Dimensions
6.22 x 1.89 x 2.76" (158 x 48 x 70mm)
Rear Shock Spring Rate
0.56N/mm
Differential
3 oil-filled metal gear
Shock Type
Oil-filled coil over