1/5 OUTCAST 4WD 8S BLX Stunt Truck RTR
Übersicht
Im ARRMA®-starken Design ist der OUTCAST™ 8S BLX 4WD mit brachialer 8S Power aufgeblasen um Drehmoment, Beschleunigung und Speed für krasse 1/5 Action abzuliefern! Dieser Ready-To-Run Truck kommt kampfbereit und komplett montiert aus der Box und kann es kaum erwarten der Schwerkraft zu zeigen, wer der Boss ist. Entwickelt für das Leben am Limit ist er, vom heavy-duty Bumper vorne, bis zur Wheelie Bar hinten, voll durchkonstruiert! Endlose hohe Wheelies, übertriebene Donuts, Backflips aus dem Stand oder in der Luft, gigantische Sprünge und viel viel mehr und das alles auf jedem Terrain und unter allen Bedingungen.
Noch einen Akku Deiner Wahl und ein passendes Ladegerät und Du bist der nächste Stunt-König. Der OUTCAST™ 8S BLX 4WD ist werkseitig mit einer Spektrum™ DX3™ Smart Fernsteuerung und einem SRS6110AT AVC® (Active Vehicle Control®) Empfänger ausgestattet, was Dir ALLE Smart Telemetrie Vorteile des Spektrum® Smart Firma™ brushless Motors und Reglers bietet. Mit der kostenlosen Spektrum™ Dashboard App auf Deinem Handy oder Tablet siehst Du in Echtzeit wie es um Drehzahl, Temperatur, Empfänger- und Fahrakkuspannung in Deinem Bashing Monster steht. Verfeinere Deine Stunts durch Aktivierung des AVC® Systems und Kratze jede Kurve noch schärfer durch Zumischen von zusätzlicher Stabilität und lass das Gas einfach voll stehen!
Größer als groß und für brutale Power und Toughness entwickelt - DAS ist der ARRMA® 1/5 OUTCAST™ 8S BLX 4WD Stunt Truck – und du ziehst dank des Metall verstärktem Designs vor gar keinem Hinderniss zurück. Wellen, Anlenkungen und Halbachsen aus Metall sowie das Metallgetriebe geben dem Antriebsstrang und der Aufhängung beinahe unzerstörbare Widerstandskraft. Auch das verbaute Spektrum™ S905 digital Servo glänzt mit der Robustheit seines Metallgetriebes.
Die extrastarke lasergravierte Chassisplatte aus eloxiertem Aluminium wurde für rauhe Nehmerqualitäten mit einem mehrfachstrukturiertem zentralen Stützsystem, einer heckseitigen Stütze und starken Seitenwannen aus Kunststoff versehen – für härteste Stunts ohne Gnade. Extra dick geformte Kunststoff-Stoßdämpferbrücken vorne und hinten tragen die einstellbaren Öldruckstoßdämpfer mit 20mm Bohrung, um Stöße und Bodenwellen problemlos abzudämpfen.
ARRMA® reduziert die Wartungszeit mit dem effizienten Design auf ein Minimum - für mehr Bashing und weniger schrauben. Die geführte Alu-Motoraufnahme wird für den einfachen Zugang mit nur drei Schrauben gehalten. Die weiteren Module des Fahrzeugs wie auch die wasserdichte Elektronik sind ebenso für den schnellen und einfachen Zugang, Ausbau und Wartung ausgelegt.
Die ultra-starke OUTCAST™ 1/5 8S Truck Karosserie ist bereits ab Werk zugeschnitten, lackiert und beklebt. Der zentrale Tower auf dem Chassis verbindet sich mit dem Überrollbügel um der Karosserie zusätzliche Stabilität zu verleihen. Die robusten Stunt Truck Räder sind mit 24mm Hex Einsätzen ausgestattet und die dBoots® BACKFLIP Reifen geben Dir jederzeit den übelsten Grip, den Du für Deine Flips, Wheelies und Spins brauchst. Der Spoiler mit hohem Anpressdruck hält Dir den OUTCAST™ 8S BLX 4WD am Boden, doch wenn du es richtig brauchst, ist die Wheelie Bar für 90 Grad Wheelies allzeit bereit!
Funktionen
Generelle Features

ARRMA®-starkes Design
ARRMA® Modulare Plattform mit vielen Optionen zur Personalisierung
Einstellbare Akkuaufnahmen mit Klettverschlüssen
Chassis-Stützoptionen, auch zwischen Dämpferbrücken
Lenkung mit umgekehrten Umlenkhebeln
Heavy Duty Servo Saver mit Doppelfederung
Komplett mit Inbusschrauben ausgestattet
Die vielseitige Chassis ermöglicht den Einsatz von Motoren bis 56110 Größe und 1/6 bzw. 1/5er Servos
Leistungen
Spektrum™ DX3™ 2.4GHz Fernsteuerung mit SRS6110AT AVC® Empfänger
Spektrum™ Firma™ 160A Smart Regler
Spektrum™ Firma™ 1250Kv Brushless Motor
Spektrum™ S905 Digital Servo mit Metallgetriebe
Allradantrieb mit Wellenantrieb
8S Power (zwei 4S Akkus, nicht im Lieferumfang enthalten)
Anti-Roll Bügel (optional, nicht im Lieferumfang enthalten)
Einstellbarer Sturz
Einstellbare Spur vorne
Verschiedene Spurstangenbefestigungsmöglichkeiten Hinten
Einstellbare Bodenfreiheit
Einstellbarer Federweg
Öl mit 20 Million cSt im zentralen Differenzial
CVD Antriebswellen
All-terrain dBoots® BACKFLIP Reifen
Massive und einstellbare Öldruckstoßdämpfer mit 20mm Bohrung
Wheelie-bar mit Gummireifen für maximale Stunts
Heckspoiler mit hohem Anpressdruck und speziellen Schrauben um den Spoiler in Rückenlage zu schützen.

Robust

Extra starke, lasergravierte eloxierte Aluminiumchassis
Mehrfachstrukturiertes zentrales Stützsystem
Chassis Stütze im Heck
Starke Seitenteile aus Kunststoff
Rutschplatten unter dem Chassis
Achsschenkel mit eingegossenen Metallversärkungen
Metallabdeckungen auf den Querlenkern verhindern herausspringen des Kugelgelenks
Extra dicke Stoßdämpferbrücken aus Kunststoff
Heavy Duty Antriebsstrang
Robuste Antriebswellen aus Metall
Differentialabtriebe und Getriebe aus Metall
Spiralkegel-Ritzel und –Stirnräder
Differentialgetriebe aus Metall
Stirn- und Leerlaufrad aus Metall
Geführter Aluminium Motorträger
Doppelt gefederter Heavy Duty Servo Saver
Wasserdichte* Empfängerbox
Gesicherte Scharnierstifte
Aluminium Hanger-Einsätze
Zentraler Schutzaufbau, welcher sich für zusätzliche Robustheit mit dem Überrollbügel verbindet
Schutzpads auf der Karosserie für Karosserie-Clips
Einteilige Spoilerbefestigung
Heavy Duty Bumper vorne
24mm Hex Einsätze in den Felgen
Einfache Wartung
Leicht zugängliche vordere und hintere Differentiale (5 Schrauben)
Einfach auszubauendes Antriebsmodul (5 Schrauben)
Geführter Motorträger für einfachen Ausbau (3 Schrauben)
Einfach auszubauende Chassis Stützen (1 Clip mit Sicherung)
Einfach auszubauendes vorderes, mittleres und hinteres Modul
Einfach zugängliches wasserdichtes* Elektronikmodul
Benötigtes Zubehör
(2) 4S LiPo IC5/EC5
Kompatibles Ladegerät [SPMXC1010 Spektrum™ Smart S2100 AC Ladegerät 2X 100W empfohlen]
LiPo Ladebeutel
(4) AA Batterien
Lieferumfang
(1) OUTCAST™ 1/5 8S BLX 4WD Stunt Truck RTR

(1) Spektrum™ Firma™ 160A Smart Regler
(1) Spektrum™ Firma™ 1250Kv Brushless Motor
(1) Spektrum™ S905 digitales Metallgetriebe-Servo [40kg-cm @ 7.4V]

(1) Spektrum™ DX3™ 2.4GHz Fernsteuerung mit SRS6110AT AVC® Empfänger
(1) Bedienungsanleitung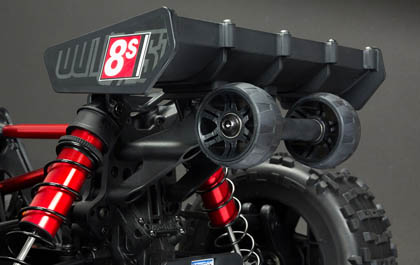 WHEELIE BAR
For when only 90 degree wheelies will do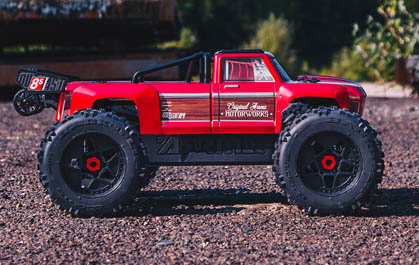 SWB CHASSIS
Responsive stunt performance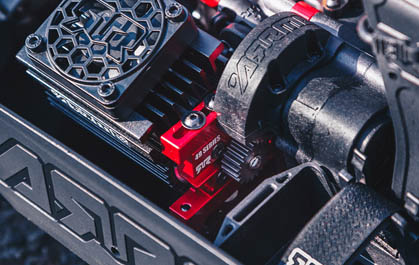 SLIDING MOTOR MOUNT
For easy meshing and quick removal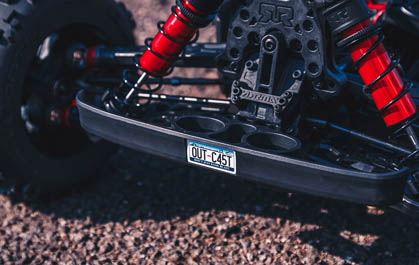 FRONT BUMPER
Stylish looks and functional impact protection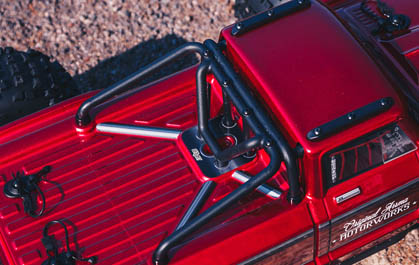 ROLL-CAGE, STUNT RAGE
The stiff roll-cage offers protection against high speed roof-time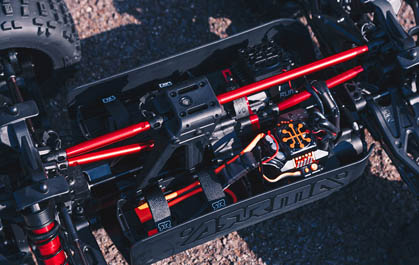 BODY PROTECTION TOWER
Interfaces with roll-cage for enhanced body durability
ARRMA BRANDED ALUMINUM CHASSIS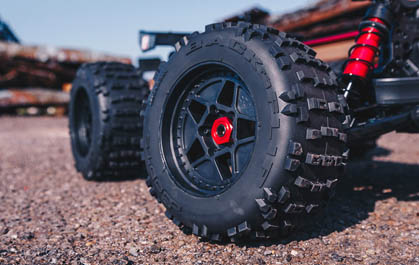 STUNT TRUCK WHEELS & DBOOTS BACKFLIP TIRES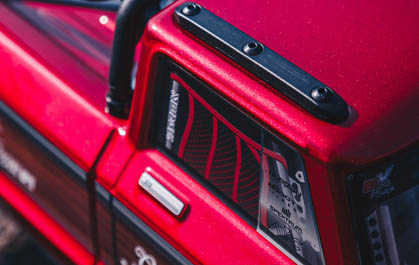 HYPER-DETAILED DECALS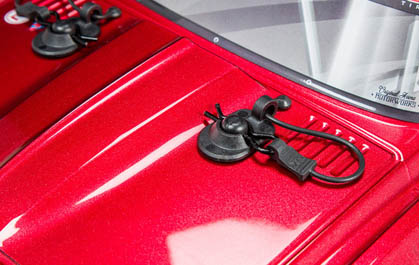 BODY POST SHIELDS WITH INTEGRATED BODY PIN RETAINERS
ALL-METAL TRANSMISSION
Center diff filled with 20 million cSt oil
'SAFE-D5' PINION
Safe and Secure SAFE-D5 design secures pinion to the motor in three ways:
1. Set Screw
2. D-Shaped hole
3. E-clip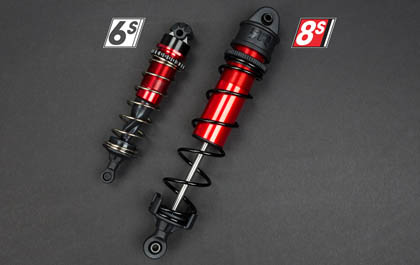 MASSIVE ALUMINUM OIL-FILLED SHOCKS
ARRMA shock size comparison: 6S shock (left), 8S shock (right)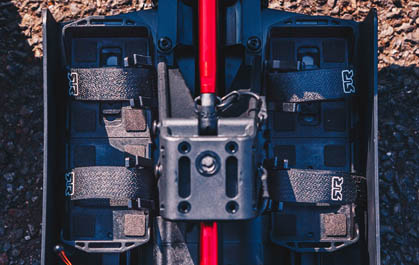 OVERSIZED BATTERY TRAYS
Accommodates a wide range of battery sizes
ADJUSTABLE BATTERY TRAY
Length: 140mm-170mm
Maximum Battery Dimensions: 6.69 x 2.16 x 2.08 in. (170 x 55 x 53mm)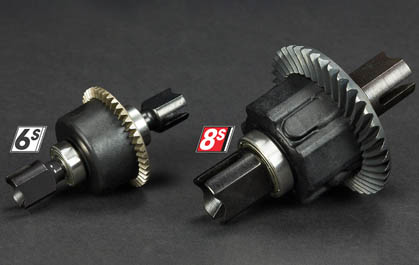 GIANT 8S TOUGH METAL GEAR DIFFERENTIALS
ARRMA diff size comparison: 6S diff (left), 8S diff (right)
CENTER DIFF EXPOSED
8S ARRMA tough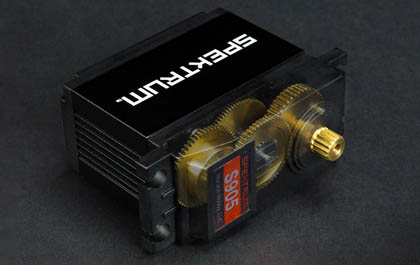 SPEKTRUM S905 METAL GEAR SERVO
Full-size 1/5th scale servo
Strong, metal gears used throughout
Waterproof and dustproof case
15 tooth output spline
Torque: 38kg-cm @6V
Speed: 0.20sec/60degree @6V
Dimensions: 2.36 x 1.14 x 2.17" (60 x 55 x 29mm)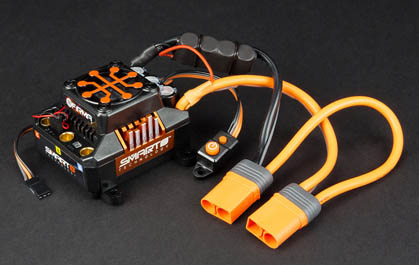 SPEKTRUM FIRMA 160A SMART ESC
Waterproof and dustproof design
160A, 8S LiPo ready (3S*, 4S*, 6S* and 8S LiPo compatible)
Spektrum® SMART Technology
Fitted with reliable IC5™ connectors (EC5™ compatible)
Integrated fan for reduced heat during extreme running
High quality 10awg wires
Low voltage cut off and thermal overload protection
User programmable punch, brake, BEC, LVC sensitivity, reverse speed and motor timing settings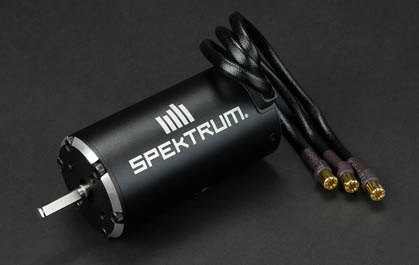 SPEKTRUM FIRMA 1250Kv BRUSHLESS MOTOR
1250Kv 4685 size 8S brushless motor
Beautifully etched aluminum can
4-pole construction for smooth and consistent power
6.5mm gold bullet connectors for reliable and efficient connection
Black anodized aluminum motor can for increased heat dissipation
Super strong 5mm shaft
Groove at the end of the motor shaft allows the installation of a pinion retaining E-Clip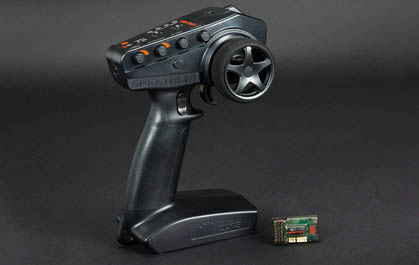 SPEKTRUM 2.4GHz DX3 SMART TX & SR6100 RX
Ergonomic steering wheel for precise control
On-the-fly adjustable AVC® gain for personalized handling
Lightweight and ergonomic design for long bashing
2 channel radio system
2.4GHz technology built around DSMR technology
Full-range telemetry capabilities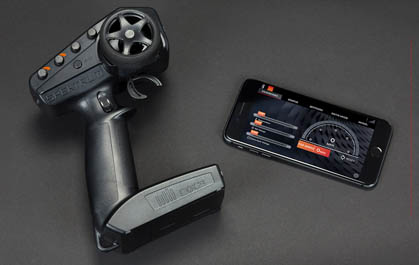 CAN BE EQUIPPED WITH SPEKTRUM DASHBOARD
Spektrum Bluetooth module*
DX3 Smart Phone Mount*
Smart Phone with the free Spektrum Dashboard App*
Download the free Spektrum Dashboard app for your smart phone at your preferred app store
*Optional items that need to be purchased separately
6S Completion Guide
These are our suggested products to complete this product.
8S Completion Guide
These are our suggested products to complete this product.
$ 239,99
Ursprünglicher Preis

$ 349,99

bis