1/10 GRANITE 3S BLX 4WD Brushless Monster Truck RTR, Orange/Black
1/10 GRANITE 3S BLX 4WD Brushless Monster Truck with Spektrum RTR
ARA102720
Alternative Produktdetails ansehen

Features
Tactic TTX300 3-Kanal Sender
BLX100 Brushless Regler-Motor Kombo
Antriebsstrang leicht zugänglich
Drei-Platten-Rutschkupplung
Servo Saver
Aluminum Motor Halter
Wheelie-Bar
dBoots Fortress MT Reifen
Mehrspeichenfelgen
Öldruckstoßdämpfer
Staubschutz
Extreme brushless Power!
Mit dem GRANITE 4x4 BLX Monster Truck treffen gnadenlose Kraft und Robustheit in außergewöhnlicher Manier aufeinander. Der 3S fähige BLX100 Brushless Motor kombiniert mit der nochmals verstärkten Getriebe- und Chassis-Konstruktion sorgen für eine äußerst effiziente Kraftverteilung dieses Allrad-Trucks. Mit den dBoots Fortress Multi-Surface-Reifen wird jeder auch nur erdenkliche Untergrund zum optimalen Racetrack. Die schwarz verchromten Felgen bieten hier zusätzlich ein sehenswertes Scale-Highlight. Das RTR Paket kommt zusätzlich mit einer 3-Kanal Tactic TTX300 für eine zuverlässige Steuerung, die sich perfekt an jeden Fahrstil anpasst.
Benötigstes Zubehör
5000mAh 50C 2S oder 3S Hardcase LiPo mit EC5 Stecker
Ladegerät
(4) AA Batterien
Lieferumfang
(1) GRANITE 4x4 3S BLX Monster Truck RTR
(1) Anleitung
Video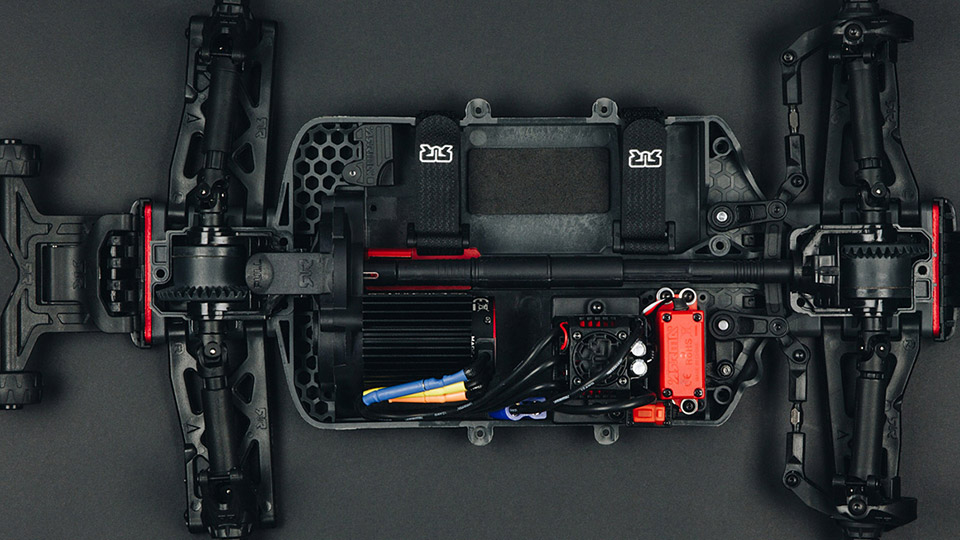 Permanenter 4x4 Allradantrieb mit Front- und Heckdifferential. Über Rutschkupplung und die Teleskopantriebswellen wird die Kraft auf die vier Räder übertragen.
ARRMA Differential
Beide bereits zusammengebauten Differentiale sind in ARRMA's innovativen "yoke" Gehäusen verbaut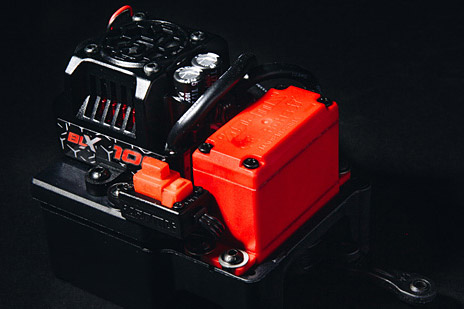 ARRMA Electronik Modul
Super kompaktes elektronik Modul mit Regler, Servo und Empfänger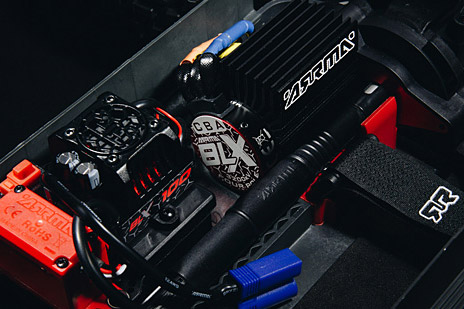 Wasserdichter BLX100 Brushless Antrieb
3S fähig für unglaubliche Beschleunigung und Geschwindigkeit
ARRMA Antriebsmodul
Bestehend aus Motor, Motorplatte, Rutschkupplung und Getriebeabdeckung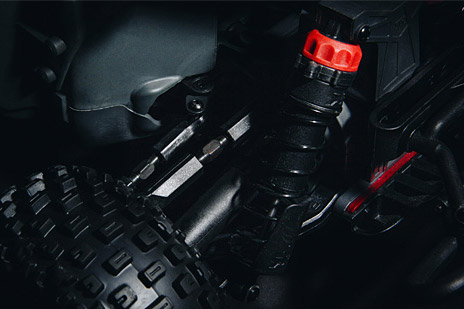 Aufhängung
Dank robusten Stößdämpfern und verstellbaren Querlänkern geeignet für alle Bedingungen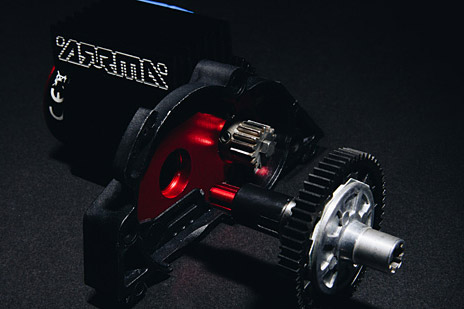 Rutschkupplung
Leichter Zugang für schnelle und unkomplizierte Reperaturen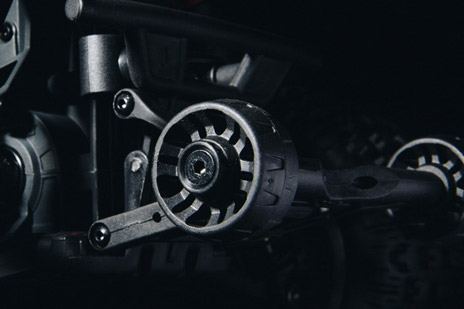 Wheelie Bar
Mit 3S Brushless power wirst du sie brauchen!
Schwarze Chrom Felgen
Fortress Short Course Reifen Design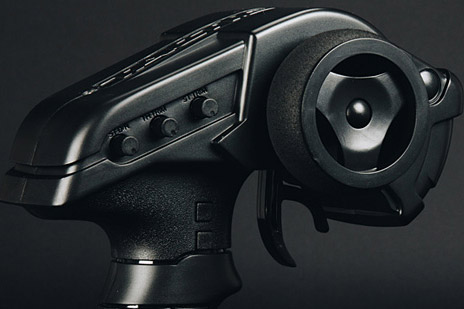 Der TTX300 Sender
Mit 2.4Ghz in klassischer Pistolenfernsteuerung Ausführung
Ideale Handhabung
mit einstellbarem Lenkausschlag, Dual-Rate und Trimmhebel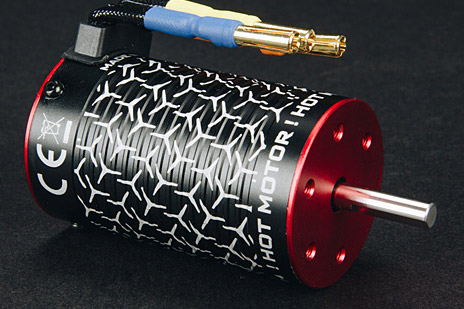 BLX3660 3200Kv Brushless Motor
3200kV brushless Motor
2S und 3S LiPo kompatibel
Gold 4mm Stecker für eine zuverlässige und effiziente Verbindung zum Regler
Kühlrippen zur guten Kühlung des Motors
5mm Welle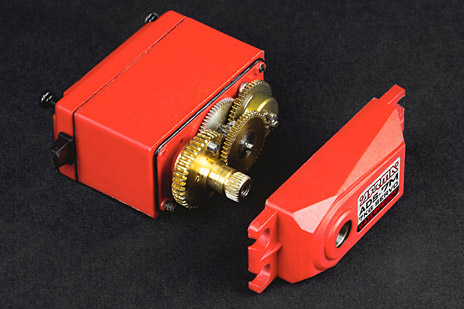 ADS-7M 7KG Wasserdichtes Servo
Mit viel Kraft und robusten Komponenten liefert das wasserdichte ADS-7M Lenkservo schnelle und präzise Bewegungen
Schnelle Stellzeiten mit 0.14 sec/0.12 sec 6V/7.2V
Metallgetriebe für extreme Belastbarkeit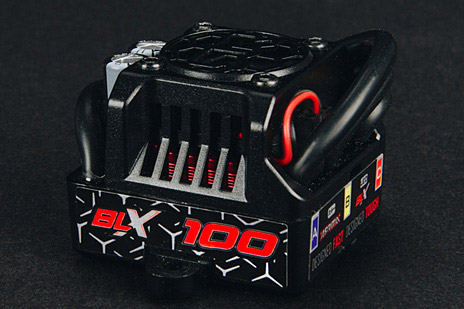 BLX100 Regler
Wasserdicht und Staubfestes Design
100A, 2S und 3S LiPo kompatibel
EC5 Stecker
Integrierter Lüfter für bessere Wärmeableitung
Gold 4mm Stecker
Niedrigspannungs- und Temperatur Abschaltung

1/10 GRANITE 3S BLX Monster Truck, 2S LiPo Complet
These are our suggested products to complete this product.
1/10 GRANITE 3S BLX Monster Truck, 3S LiPo Complet
These are our suggested products to complete this product.
Produkt Eigenschaften
Fertigstellungsgrad
Ready-To-Run
Fahrzeugtyp
Monster Truck